Summer Shoes: Achilles Heels?
Shoe shopping is my favorite aerobic sport: Stand up. Sit down. Twirl and strut at the mirror. Sprint from one display table to another, racing along the sales rack to snatch that rare size-5 find before the competition can their hands on it. I'm telling you, it's a major workout!
It's also one I'd gladly do every day, yet this stylish exercise is fraught with danger: Choose unwisely when shoe shopping, and you're headed for bunions, blisters or even a sprained ankle.
If you plan to undergo similar training this spring, here's how to get off on the right foot: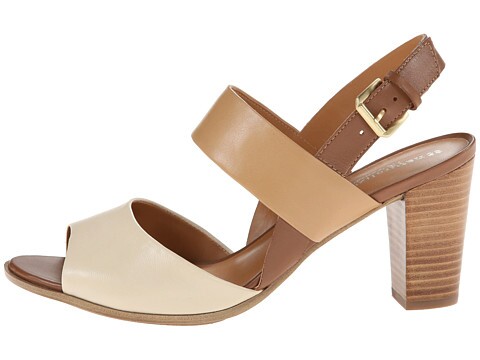 Step away from the stilts. We all complain about weight gain, but just imagine every pound of your body being pushed onto the balls of your feet by 4-, 5- or 6-inch spiky heels. The higher and narrower the heel, the more pressure the shoe exerts on the 26 delicate bones you have in each foot. No wonder our backs are out of whack and our soles are sore! One misplaced step and you're looking at an ankle sprain or torn ligaments. So if you feel like any pair of towering pumps or spiked-heel sandals is calling your name, simply refuse to answer!
Get well-heeled. You have two options for healthy heels: chunky blocks or delicate "kittens." Stick to lower heights (1 to 2 inches) for relaxed everyday wear. Squared heels, by manufacturers from Prada to Lanvin, are trending right now, and with reason: They provide a sturdy surface and distribute body weight more evenly. Even if you can't quite break the height habit, a 3-inch (maximum!)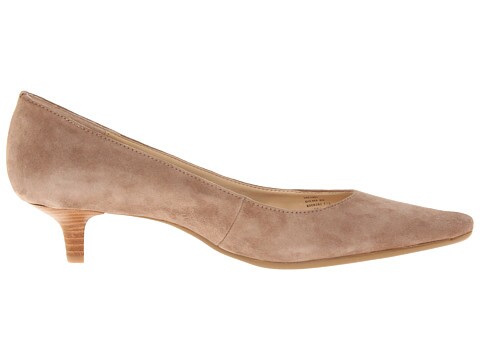 block heel, such as the Naturalizer shown at top, can still offer support. Tiny kitten-heel pumps in nude tones (the one at left is by Calvin Klein) mimic those offered by Manolo Blahnik and Jimmy Choo. Refined and ladylike, they keep your center of gravity low, centered and stable. (They also pair well with everything.) Consider splurging on one of these: Naturalizer Dahny Sandal, Aerosoles Red Hot, Soft Style Alesia or Calvin Klein Diema Pumps.
Stamp out toe abuse. Years of pointed-toe shoes have left us a few special "gifts": bunions — large, painful bulges at the base of the big toe — and hammertoes — toes permanently flexed downward, almost like claws. Most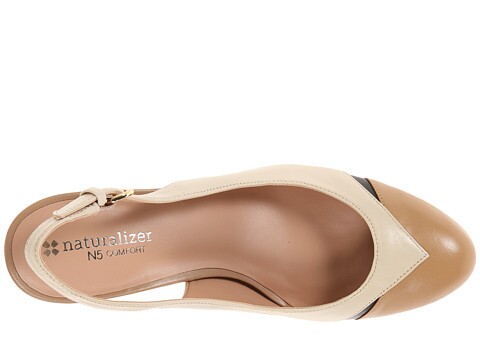 supermodels and celebrities have one or the other — Google and you'll see! — but so do many of us.
Posh podiatrists push "toe-tucks" and injections of filler, but these procedures are intended primarily to keep us in stilettos — and coming back for more treatments. Ladies, it's time to fit the shoe to the foot, not the other way 'round! Elegantly oval pumps or slingbacks (above) and soft espadrilles will give you a comfy toe up at work and on weekends. Try: Naturalizer Valerie, Trotters Dea, Kenneth Cole Reaction Espa Zee or Sam Edelman Lynn.
Get discounts on car rentals, airfare and hotels — AARP Member Advantages. »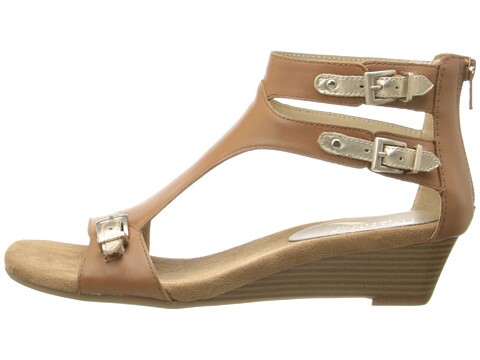 Get flat-out arch support. Love the pedicure showiness of flip-flops and sandals? So do I. But a lack of arch support can lead to plantar fasciitis, a painful inflammation of the muscle band along the bottom of your foot. Two models that can give you the support you need without looking orthopedic are engineered "gladiator" sandals — which, like the Aerosoles at left, feature padded, subtly contoured footbeds — and stretchy-strap black sandals with heel support. Try, for example, Aerosoles Yet Another, Naturalizer Jansin Gladiator, Ecco Sensata Stretch Sandal or Stuart Weitzman Giver.
For more beauty and style tips for women 50 and up, I hope you'll consider checking out my Wardrobe Wakeup: Your Guide to Looking Fabulous at Any Age.
Photos: zappos.com
Also of Interest

See the AARP home page for deals, savings tips, trivia and more