The After-50 Balancing Act
Let me give you the bad news with the good: We're falling down more often on our way to longer lives.

"As the population ages and people live longer in bad shape," wrote Katie Hafner in Sunday's New York Times, "the number of older Americans who fall and suffer serious, even fatal, injuries is soaring."
According to the National Osteoporosis Foundation, where I serve as ambassador for bone health, even younger boomers must devote some thought to their strength, stamina and bone density. For example, did you know that if you're over 50 and trip on a sidewalk, fall and break a bone — any bone — it may be due to osteoporosis?

>> 7 Ways to Prevent Arthritis

Here's another jarring statistic: Half of all women (and up to one-fourth of men) will break a bone at some point in their lives because of osteoporosis. For women, the incidence is greater than that of heart attack, stroke and breast cancer combined.

So what can you do right now to build your bone health and stay strong? Here are six action items everyone over 50 should consider putting into practice as soon as possible:

Get the right amount of calcium and vitamin D every day. (Check out this short video for tips on what to eat for stronger bones.)
Do regular weight-bearing and muscle-strengthening exercises. (Click here for some ideas how to start your program today.)
Don't smoke.
Limit your alcohol intake.
Ask your doctor to assess your own risk of developing osteoporosis.
If you are over 50 and break a bone, get a bone-density test without fail.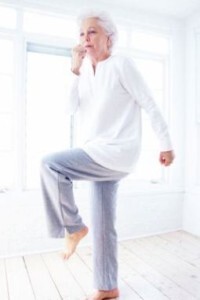 The earlier you begin building your strength and stamina, the better equipped you'll be to handle life after 50. To get started on this today, incorporate some simple balance exercises into your everyday routine: Whenever you find yourself doing the dishes or waiting in line at the supermarket, stand on one foot for 60 seconds, then switch and do the same thing with the other foot. You needn't lift your foot very high; you just have to balance entirely on one foot or the other.

>> Get discounts on health services with your AARP Member Advantages.

We all seem to take balance for granted; nowhere near as visible as other signs of aging, it's easy to overlook. Bu we need to focus on it. Working on our balance a few minutes every day — and encouraging others, especially elderly loved ones, to do the same — is as important as exercising our hearts and strengthening our bones.

For more tips on how to work balancing exercises into your daily life, check out this short video:


"Beauty bummers" — which are your biggest ones? Tell me in the comments section below and I may do a video about it!
Subscribe to THE BEST OF EVERYTHING playlist on the AARP YouTube Channel so you never miss an episode!
Photo: National Osteoporosis Foundation












Also of Interest



See the AARP home page for deals, savings tips, trivia and more