Want More Or Better Sex? Watch This!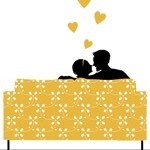 Couples who have been in relationships for a long time often find their sex lives screeching to a halt as they get older. What's worse, they often think it's their fault, when in fact, it could very well be because of something his or her partner is going through. Sure. menopause can sometimes make sex uncomfortable, and cause our libido to drop off. But just as often, a man's sex drive might slow down because of medications he's on.
There's always more than one reason why sex slows down so I went to a top "sexpert" to find out what the heck is really going on below the belt. Esther Perel, author of Mating in Captivity, flat out told me "sex after 50 could very well be the best sex you'll ever have." But, first, she said, we have to address--and bust--some of the biggest myths about sex after 50. And, as with most important things in life, getting over this hump begins with acknowledging the issue, and talking about it with your partner.
>> Sign up for the AARP Health Newsletter
Take a look at this short video in which Perel gives us some of her best tips:
The four biggest myths about sex after 50:

Men think women over 50 are sexually undesirable. Age, weight, shape . . . none of that really matters. But what does matter is if a woman has locked the door on sex. Men are turned on by women who want sex.
If you're not having spontaneous sex, it must mean your sex life is over. When was sex ever spontaneous? When you were first together, you had sex on your mind for hours, maybe even days, leading up to the experience. Good sex is planned sex.
If a couple is having less sex, it's her fault. News flash: If a woman over 50 is having less sex, chances are it's him, not her. In men, low sex drive is often related to health problems or medications he may be on, many of which are known to create some sexual functioning challenges. Men aren't used to needing stimulation, and it can be troubling. Sometimes he'll just avoid it, causing the woman to think he's no longer attracted to her -- which results in a sexual Catch-22.
If you want to have a better sex life, you need to get closer. On the contrary, Esther says, excess information and over-sharing can put the kibosh on desire, while a little mystery can fuel sexual attraction. Creating an erotic space between you and your partner is essential for good sex. (I share lots of tips on how to do that in The Best of Everything After 50
So here's the big reveal: After 50, we're at a sexual crossroads, and need to make a choice: We could shut down that part of ourselves, lock the door and throw away the key. Or we could embrace this new life with a sense of freedom and fun. You may very well find yourself having the best sex ... ever!
I want to hear from you! Tell us what you think in the comments section below.
Subscribe to The Best of Everything After 50 Web series on the AARP YouTube Channel! For more tips on living your best life after 50 (or 60, or 70...) check out bestofeverythingafter50.com. Find Barbara on Facebook or on Twitter at @BGrufferman.
>> Get entertainment and dining discounts with your AARP Member Advantages.

Also of Interest

See the AARP home page for deals, savings tips, trivia and more