What Ideas@50+ Taught Me About Positive Living
As a blogger for AARP and the host of its Best of Everything video series on YouTube, I had an opp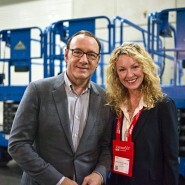 ortunity to attend the association's recent Ideas@50+ event in San Diego. It was a fun chance to mingle with some of the attendees and speakers, and I managed to snag some keepsake shots such as the one at right with the very entertaining Kevin Spacey. The House of Cards star — along with another Hollywood president, Julia Louis-Dreyfus of HBO's Veep — opened the event.
But the takeaway for me (from inspirational sessions featuring the likes of Martha Stewart, Arianna Huffington and Erin Brockovich) was the big idea that the best is yet to come, so we might as well get ready for it.
>> 12 Tips to Lose Weight Quickly
Huffington, founder of the news website Huffington Post and author of this spring's Thrive, put her finger on it when she talked about new measures of success. "The key to success after 50," she said, "is to realize that a lot of those things that dominated our lives at the beginning of our careers, and measuring everything in terms of money and power, is no longer what really defines a successful life. Now, the focus should be our well-being, giving back and more than just money. And it all gets better after 50."
And Martha Stewart, best known for cooking, gardening and high-end crafting (as well as being a smart entrepreneur), espoused my own mantra, which is: Exercise every day. It was reassuring to hear those words coming from a woman of such influence, because I believe regular exercise is the best weapon you can employ in the battle to live your best life. Making a concerted and consistent effort to keep ourselves fit — and therefore as healthy as possible — is an action item squarely in our power.
It's likewise in our power to follow our dreams, which is just what the performers at AARP's Boomer Superstar concert, powered by American Idol Live, were doing. The five finalists, chosen from more than 1,000 video entries, took the courageous first step of putting themselves out there. The two divinely talented people who won — Julian Hernandez, 60, and Ká Wright, 51 — each took home $5,000. Both will also get to audition with a recording label. Talk about living your dreams!
>> Get discounts on electronics with your AARP Member Advantages.
The superstar winners definitely qualify as people who embrace each day while continuing to look ahead. And for all concerned, Ideas@50+ confirmed that we must never stop learning, giving and loving. Louis-Dreyfus got a big laugh when she shared some easy-to-follow advice: "My mother said you always have to have something to look forward to. It doesn't have to be a big thing — it could be dinner."

Until next time, remember: We can't control getting older, but we can control how we do it!
Readers, please keep me posted on how you're doing! To contact me personally, you can subscribe to me on Facebook or follow me on Twitter at @BGrufferman.
Photo: Barbara Grufferman
Also of Interest

See the AARP home page for deals, savings tips, trivia and more