Why You Should Throw Out Your Blow-Dryer Today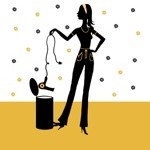 Do you know what your hair really looks like?

After decades of blow-drying and pulling and stretching and coloring and perming . . . how could anyone know?

Years ago I had a long talk with my hair. I made a very strong case, but it simply refused to listen. The battle lines were drawn. My hair wanted to be curly, and me? Nope. It was 1969 - a year full of rebellions - and I had to look like a Mamma from the Mammas and the Pappas- straight hair, parted down the middle.

Hello, orange juice cans and Dippity Do.

Until the 1970s when I discovered the Farrah Fawcett look and the blow-dryer, all in the same year.

Hello, damaged hair.

To get the "Farrah Fawcett" do, which was so popular then. I had to blow dry my hair for 45 minutes (which I did every single day).

Then came the 80s . . . well, let's just forget about the 80s.

In the 90s, my hair was not only blow-dried, but ironed straight and sleek by the latest hot stylist du jour. New technology allowed blow dryers to get to the hottest possible temperatures for maximum impact (and destruction!). But, it looked perfect. It was straight, and it swung when I walked. Rain? I stayed in. Humidity? Baseball cap.

Well, I won the war, but lost the battle. As I entered my 50s, I no longer had hair.

I had road kill.

>> Get travel discounts with your AARP Member Advantages.

After alot of digging around, I finally found the solution - letting my hair be what it was meant to be. Lorraine Massey, founder of Devachan Salons and Deva hair products, taught me to love my hair again by following three key "hair rules":



Less shampoo

More conditioner

Throw out your blow-dryer
Result?

Well . . . take a look at this short video, where I chat with Lorraine about how to have great hair after 50 . . . and you tell me.





Until next time, remember this: We can't control getting older . . . but . . . we can control how we do it!

I want to hear from you! Tell me in the comments section below if you would ever throw out your blow-dryer! Subscribe to The Best of Everything After 50 Web series on the AARP YouTube Channel! For more tips on living your best life after 50 (or 60, or 70...) check out bestofeverythingafter50.com. Find Barbara on Facebook or on Twitter at @BGrufferman.
Photo: Best of Everything After 50
Also of Interest

Join AARP: Savings, resources and news for your well-being


See the AARP home page for deals, savings tips, trivia and more