Winter De-Aging Tricks from a 50+ "Chill Cheater"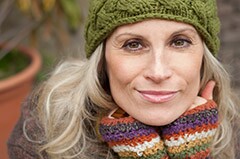 My sun-damaged face, frizz-prone hair and spotty legs love winter: The camouflage afforded by long sleeves and scarves, leggings, tall boots and hats make this a stress-free fashion season. I ignore warnings to steer clear of long, hot baths - if not now, when? I also shun humidifiers (or "germ factories," as I call them).
But never would I skip the five basic rituals below, which can help counteract the aging effects of outside cold and indoor heat:
1) Slather on simple, low-cost creams. Your No. 1 priority from now until spring is moisture, so hold the retinols and trendy serums for now. All you need are gentle, basic creams with water-luring humectants such as hyaluronic acid and glycerin (to plump and fill lines), ceramides (to reinforce the skin's lipid barrier so moisture can't escape) and emollient butters and oils (to smooth and soothe). Try CeraVe Moisturizing Cream for Normal to Dry Skin (drugstore.com), Simple Sensitive Skin Expert Replenishing Rich Moisturizer (cvs.com) or Essence of Beauty Secret Woods Body Lotion (cvs.com).
2) Buff everything. Creams won't do a thing unless you exfoliate gently but consistently. "Smoothing away rough patches helps skin accept products more readily," says dermatology professor Jeannette Graf of New York's Mt. Sinai Medical Center. "It also stimulates microcirculation for a healthy glow." Use a light hand - you don't want to overdo it. For the face, choose milky cleansers with AHAs or soft microbeads; masks with enzymes such as papaya; and sonic or rotating brushes designed for sensitive skin. Before bathing or showering, dry-brush your body with a natural-bristle brush; you can alternate that with an emollient-based body scrub or soak. The goal is to banish crusty elbows and knees, and say good-bye to black tights or tees lined with "body dandruff." Try Glytone Mild Cream Wash (dermstore.com) or Calgon Ageless Bath Mineral Scrub and Soak (drugstore.com).
3) Drink more water; eat more omega-3 and alkaline foods. To balance your body's pH level and improve blood flow to the skin, Dr. Graf recommends drinking plenty of water with a squeeze of lemon and adding more alkaline foods - wild rice, quinoa, apples, pears, cantaloupe and grapes - to your diet. "A colorful Mediterranean diet rich in omega fatty-acid foods such as salmon, halibut, kale, collard greens and winter squash," she says, "keeps skin youthful." You might also try hair-and-nail supplements with biotin and omega-3 and -6 to boost growth and strength, such as Sensational Hair & Nails (zitomer.com).
4) Baby your hair. Dry shampoo extends blowouts, thickens texture and adds body to thin hair without frequent heat styling. Dry conditioners mist coarse, frizzed hair with a healthy look and no residue. Try Pantene Dry Shampoo Blowout Extend (drugstore.com), Oribe Soft Dry Conditioner Spray (oribe.com), or Got2b Rockin' It Dry Conditioner Spray (walmart.com). When all else fails, those lovey winter hats - knit beanies, furry trappers, fedoras - provide an instant glam fix.
5) Wear "comfort makeup." I skip real foundation in favor of a tinted hydrating cream, which can blur brown spots, broken capillaries and splotchy areas into a youthful, dewy winter complexion. The label may read "BB," "CC," "tinted moisturizer" or "lite," but your goal is treatment with color, not makeup with treatment. To counteract excess redness - whether from rosacea, a cold or chapped cheeks - choose a slightly warmer, sunnier shade: Pond's Luminous Finish BB+ Cream (drugstore.com), perhaps, or Dr. Hauschka Toned Day Cream (beauty.com).
Here's to a beautiful 2014 for all my readers! Cheers!
For more beauty and style tips for women 50+, check out my Wardrobe Wakeup: Your Guide to Looking Fabulous at Any Age.
Photo: Cultura/Getty Images