Would You Steal From the Man in Your Life?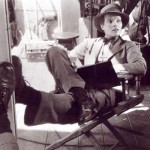 I do, and it's highly recommended.

Good grief, not money!

But every once in a while you should take a look through his closet to see what you can take. A tie maybe? Or how about the perfect shirt with sleeves you can roll up? Not sure what you should be looking for? Just channel your inner Katharine Hepburn or Marlene Dietrich!

My most recent journey into his sacred space produced the perfect hat. My husband Howard got this Arnold Trilby hat by Kangol earlier in the summer, thinking he would wear it when he walked the dog.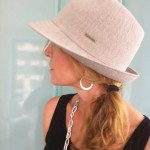 He didn't and still doesn't. It's just been sitting there, gathering the proverbial dust.

So I popped it on my head . . . and I knew, just knew, I had found MY perfect hat. The best part is he was totally okay with it.


I've been known to take ties, jackets, scarves and even more important, ideas. You see, my husband is the shopper in the family. His idea of fun is to spend hours with his iPad searching for the perfect pair of jeans or shoes, and I rely on his investigative skills to fill me in on what I should and shouldn't be wearing right now.

Me? I'd rather empty the dishwasher.

My favorite pieces were all gifts from Howard, including (and especially) my black leather motorcycle jacket (so cool, so soft, so totally perfect with everything), and something every woman should have in her closet. I wear it in the video below (Date Night: Flirty Fashion After 50) if you want to take a look.

There are things my husband owns that I truly covet: his Belstaff jacket, for example, and his Nudie Jeans. I can't steal them because they just don't fit. But, I CAN be inspired by his exquisite fashion sense.

I know women who wear their husbands' vests and neck ties with a crisp white shirt and a great pair of jeans for a very sexy look. And just yesterday someone told me she steals her boyfriend's socks whenever he's not looking.

I think my husband gets a kick out of seeing me wear something of his. Howard told me last week after I returned a scarf I had borrowed (which I had also knitted) that he loved how he could still smell my perfume (Jil Sander Woman III) lingering in the cashmere stitches (made with love). Nice.

Sharing clothes is a lovely thing to do, for sure. He just better not start looking through MY closet.

That's where I draw the line.


I want to hear from you! Let  me know what you want to see on future segments of THE BEST OF EVERYTHING WITH BARBARA HANNAH GRUFFERMAN video show on the AARP YouTube Channel. For more tips on living your best life after 50 (or 60, or 70), check out www.bestofeverythingafter50.com. Keep me posted on how you're doing by subscribing to me on Facebook and tweeting me on Twitter@BGrufferman.



Photo credits: Jannes Vintage, Barbara Hannah Grufferman personal collection,