10 Surprising Things About (Ambassador?) Caroline Kennedy
By Bill Hogan, July 25, 2013 04:10 PM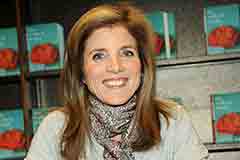 You probably know that President Obama has nominated Caroline Kennedy, the daughter of President John F. Kennedy and first lady Jacqueline Bouvier Kennedy, to be ambassador to Japan.

But here are 10 things you may not know about the 55-year-old scion of America's best-known political dynasty:

She's named after her aunt, Caroline Lee Bouvier, a.k.a. Lee Radziwill.
Ethnically, she is three-fourths Irish and one-fourth French.
While her father was president, her Secret Service code name was Lyric.
At the White House, she was often photographed riding Macaroni, a Yucatán pony that Vice President Lyndon B. Johnson gave her.
JFK's favorite dog was Charlie, Caroline's little Welsh Terrier. Soviet Premier Nikita Khrushchev gave her Pushinka, a mixed-breed puppy born to the Russian space dog Strelka. Pushinka and Charlie had four puppies together; JFK dubbed them "the pupniks."
A photo of 11-year-old Caroline with Macaroni later inspired singer-songwriter Neil Diamond to write "Sweet Caroline," a fact he didn't reveal until performing his No. 1 hit for her 50th birthday in 2007. Here's a video of Diamond performing the song earlier this year at Boston's Fenway Park and, below that, a video of Elvis Presley's 1970 cover of the song:
As a student at Radcliffe College in the late 1970s, Kennedy reportedly considered becoming a photojournalist but soon, according to People magazine, "realized she could never make her living observing other people because they were too busy watching her."
In the summer of 1977, Kennedy served as an intern for the New York Daily News, where she earned $156 a week, by one account, "fetching coffee for harried editors and reporters, changing typewriter ribbons and delivering messages."
Soon after Elvis Presley died in August 1977, Kennedy wrote a story for Rolling Stone magazine about her visit to Graceland, where she met Elvis' widow (Priscilla Presley), father (Vernon Presley) and rhythm guitarist (Charlie Hodge).
She was the maid of honor at the 1986 wedding of Maria Shriver (her cousin) and Arnold Schwarzenegger.


Photo: Bobby Bank/WireImage/Getty Images

Also of Interest

Join AARP: Savings, resources and news for your well-being


See the AARP home page for deals, savings tips, trivia and more