100-Year-Old Driver Hits 14 In L.A.; Is Age to Blame?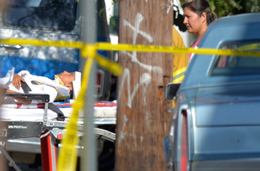 Fourteen people - including nine children - were hit when Preston Carter, 100, backed his "powder blue Cadillac" onto a Los Angeles sidewalk Wednesday. The sidewalk was across the street from an elementary school, hence the children, who were lined up with a group of parents buying food from a street vendor. Everyone is expected to survive, but four children remain at the hospital after being in critical condition.

Specific accidents involving older drivers aren't something we usually cover here, but there's something so cinematic about this one - the powder blue Cadillac, the elementary school children lined up for after-school snacks - that it seems to be attracting more than it's fair share of media attention. I don't mean to minimize the seriousness of what happened. The horror of the scene is what's making it resonate - and resurrect the debate about older drivers.

Carter, who has a valid driver's license, will turn 101 Sept. 5. He was pulling out of a grocery store parking lot when he backed onto the sidewalk instead of into the street, according to the Associated Press.

"My brakes failed. It was out of control," Carter told KCAL-TV.
Asked about hitting the children, Carter said: "You know I'm sorry about that. I wouldn't do that for nothing on earth. My sympathies for them."
"I think it was a miscalculation on his part. The gentleman is elderly," (Police Capt. George) Rodriguez said. "Obviously he is going to have some impairment on his decision making."
Whoa. Impairment - cognitive, visual or otherwise - in older drivers is definitely a serious concern. But it's upsetting to see people like Rodriguez immediately and broadly extend this assumption of impairment to all "elderly" people. A study published last week in the Journal of the American Geriatrics Society reported that drivers over 70 are no more likely than drivers under 30 to die in car accidents.

Want to test your safety skills? Take the Smart Driver  quiz. You may also want to check out AARP's Driver Safety program or read more about how to tell if it's time for aging parents to give up the keys.

Thursday Quick Hits:

- Questioning calorie restriction. It's the premise of the popular Longevity Diet book and a growing number of anti-aging gurus, but drastically cutting calories may not matter in terms of lifespan. In a new 23-year study from the National Institute on Aging, monkeys fed a 'severely low calorie' diet didn't live any longer than monkeys fed a normal diet, though they did show some signs of better health.
- Inaccurate care unit? ICU patients are twice as likely to face a fatal misdiagnosis at hospitals, a new study finds.
Photo: Mark J. Terrill/AP