AARP Cheat Sheet: Thursday, January 20
By Beth Carpenter , January 20, 2011 03:09 PM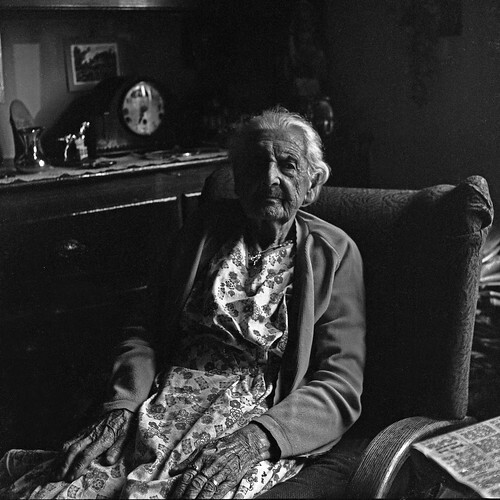 (From the photographer: "This is my grandmother, Ellen Hammond, I took this picture in the 1970's when she was in her 90's. She was a strong Methodist but had a drink of stout and bet on the horses every day of her dotage." Via.)
Big announcement for WalMart as it starts expanding into urban areas: "Walmart... will announce a five-year plan on Thursday to make thousands of its packaged foods lower in unhealthy salts, fats and sugars, and to drop prices on fruits and vegetables.
More and more conflicts popping up between religiously-affiliated hospitals and their church authorities: "...The drive to remain competitive has led some medical centers to evade the directives. Alongside those economic forces, changes in the church hierarchy have led increasingly conservative bishops to exert more influence over Catholic hospitals."
Barbara Ehrenreich to baby boomers: "Don't give up your day job."
Baby boomers focus on fitness:

"One running trail in the park is called Bulldog, and it goes up, up, up, testing lungs and Achilles tendons for 3.6 exhausting miles. When Ron Paquette runs it, he is a bulldog running Bulldog. He is faster than almost everyone else his age up these hills and faster than many half his age. In his 50-59 age group, he won a 25-kilometer race on these trails in August by a whopping 22 minutes."