5 Dramatic Ways Women's and Men's Heart Attacks Differ
By Candy Sagon , January 27, 2016 12:00 PM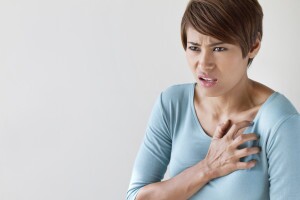 A woman's heart attack is different from a man's in just about every possible way: risk factors, symptoms, causes, treatment, outcome, rate of complications, even use of cardiac rehab.
That's the basic conclusion of the American Heart Association's first scientific statement on gender differences in heart attack patients, published in its journal Circulation.
"Despite stunning improvements in cardiovascular deaths over the last decade, women still fare worse than men and heart disease in women remains under-diagnosed, and under-treated, especially among African-American women," lead author Laxmi Mehta, M.D., director of the Women's Cardiovascular Health Program at the Ohio State University, said in a statement.

While the number of deaths from heart disease among women has dropped, more women still die from heart disease each year than men. Heart disease, not cancer, remains the leading cause of death among American women — perhaps because both doctors and women themselves don't recognize that signs of heart attack can be different in women than men. The result of this confusion can be misdiagnosis and improper treatment.

The situation is even worse among black and Hispanic women, who are more at risk for heart attacks and have poorer outcomes when they do have one, the heart association said.
Women overall also tend to have longer hospital stays and more complications than the average man.
Part of the problem may be because women are under-represented in clinical trials for heart disease, generally making up only 20 percent of enrolled patients. Even when women are included in the trials, there's often no analysis of data based on gender to give health care providers a better understanding of how the disease affects women compared to men, the researchers noted.
Understanding these gender differences can help improve prevention and treatment among women, Mehta said. "Women should not be afraid to ask questions — we advise all women to have more open and candid discussions with their doctor about both medication and interventional treatments to prevent and treat a heart attack."
Based on the heart association's findings, here are the biggest differences between a man's and a woman's heart attack:
Symptoms: During a heart attack, women and men often feel chest pain, but women may experience uncommon symptoms such as back, arm, neck or jaw pain, or have nausea, vomiting, weakness and a sense of dread.
Risk factors: Women with high blood pressure are at higher risk for a heart attack compared to men. Depressed women have a 50 percent higher risk of heart attack. For younger women, diabetes raises their risk for heart disease four to five times higher than for men.
Causes: The blockages in the arteries that cause heart attacks form differently in women than in men. In women, the blockage can cause more damage to the artery, even though it may not be large enough to require a stent. If doctors don't correctly diagnose the underlying cause of a woman's heart attack, they may not prescribe the right type of treatments after the heart attack.
Get discounts on prescriptions, health exams, eye care and more — AARP Member Advantages »
Treatment: Women wait longer to get treated — the median delay is about 54 hours in women and 16 hours in men — and are consistently under-treated when compared to men, leading to worse outcomes. Some physicians do not follow medical guidelines to prescribe medications like statins; they also prescribe cardiac rehabilitation less frequently. Even when it is prescribed, women are less likely to participate in cardiac rehab or complete it.
Complications: Women who survive a heart attack are more likely than men to have complications in the hospital such as shock, bleeding or heart failure. Women heart attack patients also tend to be older, making them frailer, and have other risk factors, including diabetes and high blood pressure, that complicate treatment.
Photo: 9nong/iStock
Also of Interest


See the AARP home page for deals, savings tips, trivia and more.