54 Is the New 49, Says CBS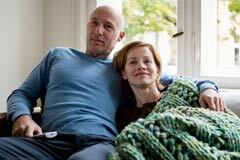 CBS has been mocked for attracting older audiences than network TV peers like NBC or Fox. But it's a situation that could pay off nicely for CBS, as advertisers increasingly realize the value of appealing to older buyers.
CBS - home to shows such as "The Big Bang Theory" and "Two and a Half Men" - has the oldest TV viewership of the four major broadcast networks, according to Nielsen data. The average CBS audience member is 57 years old, compared with 45 at Fox, 50 at NBC and 52 at ABC.
Since the 1970s, the 18- to 49-year-old demographic has been most coveted in terms of TV viewers. This was the group said to have the most purchasing power, and television ads were aimed accordingly.
But as with so many facets of American life, the aging of the boomer generation (along with other cultural and economic trends) has started a shift in advertising and audience targeting. Many boomers are in their peak earning years and still a decade or more away from retirement. Meanwhile, today's 20-year-olds aren't really setting up households or making decisions about laundry detergent.

"While we enjoy winning in all the categories, 18-to-49 is not the end-all it's made out to be," said Nina Tassler, CBS's head of entertainment.

The network will generate more sales from ads targeting the 25- to 54-year-old demographic, she said. Currently, four of its five top advertising categories - including luxury cars, pharmaceuticals and financial services - target this group.

"This demo, when you look at 25 to 54, is the cornerstone of what luxury marketers are looking for today," said Loren Angelo, general manager of Audi Brand Marketing.

The biggest advertising categories aimed at younger viewers include movies, fast food and technology.
Friday Quick Hits:

- U.S. lags in stopping preventable deaths. A new study finds that between 1999 and 2007, France, Germany and the UK all made stronger strides toward preventing "deaths avoidable through health care" than did the United States (despite the fact that we spend about twice as much per person each year on health care as any of these countries). The difference was most pronounced among Americans under age 65, who are more likely to be uninsured than those with Medicare access.
- Texas voter ID law rejected. A federal court Thursday rejected a Texas law that would have required all voters to show voter IDs before casting ballots this November. A similar case is on trial this week regarding South Carolina. [See where AARP stands on voter ID laws here.]
- States see uneven jobs recovery. USA Today compared states' progress on fighting unemployment and found wide disparities from state to state. For instance, Pennsylvania has regained about 57 percent of jobs it lost in the recession, while Florida has only regained 19 percent. Alaska, Texas, North Dakota and D.C. have exceeded peak prerecession employment levels. Other states - including Alabama, Arizona, Nevada, Michigan and Rhode Island - are still hovering at 7 percent or more below job peaks.
Photo: Halfdark/Getty Images