The Takeaway: AIDS Memorial Quilt On Display in Washington, D.C.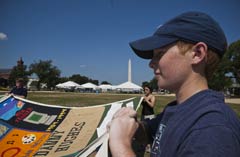 In 1987, the AIDS Memorial Quilt was started to memorialize Americans who died of AIDS. Portions of the quilt's now 48,000 panels--hand sewn by family and friends of those lost to the disease-will be displayed throughout Washington, D.C., during the month of July.

The AIDS quilt was created by an organization called The NAMES Project. Twenty-five years after the quilt's launch, it still receives new panels every day, each a small shrine to someone's loved one taken by AIDS.

The Folklife Festival, which runs on the Mall June 28 to July 8, will showcase 8,000 panels from the quilt, along with artists, musicians and quilting tents. The entire AIDS quilt will be displayed as part of the global AIDS 2012 conference (July 21-25), though not all at once --at a now enormous 1.3 million square feet (50 miles) and 54 tons, the quilt is no longer possible to display in a single location all at once. The bulk of the panels will be displayed on the Mall, but 4,800 of them will be displayed around the city, from the ballpark to the National Cathedral.

The AIDS Memorial quilt has incredible power to draw people into a conversation about HIV/AIDS," said Julie Rhoad, president and CEO of The NAMES Project. "We will use this summer's Quilt display to reignite the conversation about how we begin to end AIDS."

You can volunteer to help fold/unfold the quilt, read names on the Mall, submit a panel or submit your own story by visiting www.Quilt2012.org.

Wednesday Quick Hits:

Farewell to Nora Ephron. The witty essayist and screenwriter who brought us romantic comedies like When Harry Met Sally... and Sleepless in Seattle died of leukemia; she was 71.
Half of finalists in model search are over 45. International modeling agency Wilhelmina Models is conducting a search for models over 30. After a round of open online voting, it's been narrowed to 10 finalists--five of whom are 45+, including three models 50 or older.
Photo: Daniel C. Britt/Getty Images