America's Top Consumer Complaint Is Doubled Among Military Members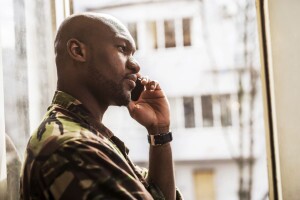 It's bad enough that everyday citizens file more complaints to the Federal Trade Commission about sleazy debt collectors than about any other consumer scam. Now, another government watchdog agency reports that military personnel are especially popular targets of collector abuse — often for debts they don't owe.
In an annual report from its Office of Servicemember Affairs, the Consumer Financial Protection Bureau found that active military personnel submit debt collector complaints at twice the rate of civilians.
Ways to save, expert investment advice, scam alerts and more! — AARP Money Newsletter »
Nearly half of the 19,200 complaints from military members to the CFPB last year were about debt collectors, and of those, 44 percent were about attempts to collect a debt that the service member believed was not owed. One common tactic: Collectors would contact their victims' commanding officers and threaten the service members' security clearance over a reported debt.
Meanwhile, military veterans often complained that collectors attempted to get money for medical bills that should have been covered through Veterans Affairs health insurance.
It's the latest evidence of an ongoing trend — namely, scams that specifically prey on (or fraudulently impersonate) active-duty military personnel and veterans, their families and patriotic civilians who appreciate their service and sacrifice.
According to the Office of Servicemember Affairs (charged with protecting military personnel against financial abuse), other top complaints by military personnel involve the following:
* Mortgages: Among 2,800 complaints (roughly 15 percent of all), the most common involved challenges that service members faced when they were unable to make payments, such as problems with loan modifications and foreclosures. In particular, the report notes, military members continued to experience servicing issues when they had to relocate after a permanent change sent them from one base to another.
* Credit reporting: The large majority (72 percent) of complaints involved incorrect information on credit reports, often fraudulent activity and identity theft that were discovered after service members returned home from deployment or temporary duty stations. And when they tried to clear their names, they often experienced roadblocks from creditors and the credit reporting bureaus. Credit report problems accounted for 2,220 complaints (12 percent of all), but they jumped one-third over 2014 figures.
* Consumer loans: Auto loans, in particular, present unique challenges. A common gripe: Only after receiving orders to move overseas, military personnel discover that their loan contract forbids them to take their car outside the United States — a restriction not previously mentioned. With 1,400 complaints, consumer loans represent only 7 percent of all received, but this number soared by nearly 60 percent over 2014 reports.
Discounts on financial services from trusted companies — AARP Member Advantages »
For its part, in 2015 the CFPB took four enforcement actions against companies accused of abusive debt collection practices, charging for fees without proper disclosures, deceptive mortgage advertising and other charges. As a result, affected service members and their families received $5 million in relief.
Military or civilian, complaints about consumer financial products — including credit cards, mortgages, bank accounts and services, loans, debt collection and credit reporting — can be made online, by calling 855-411-2372 (TTY/TDD phone number: 855-729-2372), faxing to 855-237-2392 or mailing a letter to Consumer Financial Protection Bureau, P.O. Box 4503, Iowa City, Iowa 52244.
For information about other scams, sign up for the Fraud Watch Network . You'll receive free email alerts with tips and resources to help you spot and avoid identity theft and fraud, and gain access to a network of experts, law enforcement and people in your community who will keep you up to date on the latest scams in your area.
Photo: BraunS/iStock
Also of Interest

See the AARP home page for deals, savings tips, trivia and more.