Archie: The Demise of America's Oldest Teenager?
By Patrick Kiger, April 9, 2014 02:48 PM
Can it be true? Is Archie Andrews really going to die?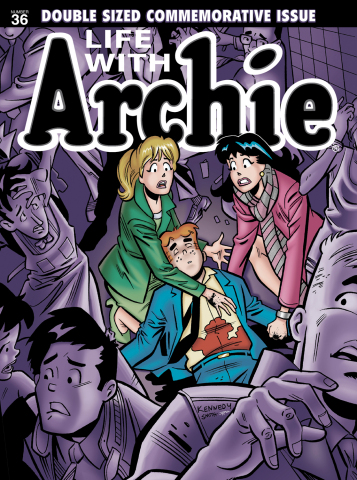 Archie, the comic book icon in the Riverdale High letter sweater, has been hanging out with best buddy Jughead Jones at The Chok'lit Shop and struggling with the Betty-or-Veronica quandry for more than seven decades. But now comes word that Archie is headed for that great malt shop in the sky. Archie Comics, the publisher of his adventures, has announced that he will "sacrifice himself heroically" while saving the life of a friend from some yet-to-be-revealed menace in the final issue of Life With Archie, a "flash-forward" series of comics that has depicted the adult lives of Archie and his friends.

>> Sign up for the AARP Leisure Newsletter

If all this is too disconcerting, there's one consolation: The flagship series of Archie books will continue depicting the adolescent antics of Archie and his friends, without any foreshadowing of his ultimate doom, according to CNN.

In the meantime, here are a few facts about Archie:

Riverdale isn't based on the tony Bronx neighborhood - but rather on Haverhill, Mass., where original artist Bob Montana attended high school in the late 1930s and hung out at a soda fountain called the Chocolate Shop, according to a 2001 Boston Globe article.

Archie has had a bunch of cars over the years, starting out with a Model T and progressing to a vintage 1960s' Mustang.

Archie's 1940s wardrobe morphed into the Carnaby Street bell-bottom look in the mid-1960s, after Montana - who also lived in Mexico and Italy - moved for a time to London.

In the 1960s, Archie briefly became the alter-ego of a superhero named Captain Pureheart, who possessed powers such as "magnetic mind projection."

The Archies, a garage band that ostensibly featured Archie, Jughead and pal Reggie Mantle, reached No. 1 on the Billboard Hot 100 chart in 1969 with "Sugar, Sugar."
While grappling with the Betty-Veronica question,

Archie also had at least a couple of other girlfriends, including Cheryl Blossom, a curvaceous redhead who apparently was written out of the story line in the mid-1980s after being deemed too risque for young readers.
In 2010, Archie's circle of friends expanded to include an openly gay character, Kevin Keller, who proved so popular that Archie Comics is transforming him into a superhero, the Equalizer, in a series that will debut in May.


Image: Archie Comics

>> Get entertainment and dining discounts with your AARP Member Advantages.



Also of Interest



See the AARP home page for deals, savings tips, trivia and more