Back to School? Parents, Be on Guard for Student ID Theft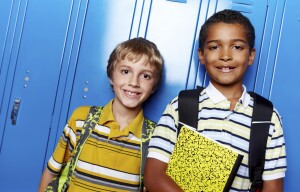 With the kids returning to school, you've earned a sigh of relief. But don't breathe too easy just yet.
From elementary through high school, students are 51 times more likely than their parents to be victims of identity theft. College students are ideal (and common) targets — and when hit, they lose more money and take longer to discover their identity theft than any other age group. And with forms, dorms and other threats, a new school year is especially risky. (So far in 2015, 39 reported data breaches at universities and school districts have exposed 740,000 records, the Identity Theft Resource Center reports.)
Some lessons worth learning:
Be stingy with their SSN. It's doubtful that an after-school program or youth soccer league really needs a child's Social Security number, and typically, there's no legal right to demand it. Before providing an SSN, ask why it's necessary and how it will be protected.
Don't let others overshare. School directories can contain student information you may not want shared, such as address, phone number and birth date — all useful to identity thieves. Under the Federal Educational Rights and Privacy Act (FERPA), schools must notify parents and guardians about their school-directory policy – for instance, to whom it's sold – and allow you to opt out from the release of such information to third parties.
Oversharing often starts at home or, more specifically, on social media accessed from home. So school your kids not to post sensitive details such as birth dates or even a pet's name (often used as a security question on websites and a popular password choice among young people).
Encourage safer surfing. Celebrity gossip, nude photos, free games, music and apps are enticing lures for students, and proven bait for scammers. But virtually any link posted in emails from strangers, listed on social media or found through keyword searches can harbor malware ranging from keystroke loggers, to track what is typed, to ransomware that hijacks files for money. So before your kids click, instruct them to:
* Carefully read website addresses and stick with well-known and trusted names.
* Type website addresses themselves, instead of trusting a link provided through a search engine.
* Hover their computer mouse over the link — and ignore URLs with a bizarre hodgepodge of numbers and letters that don't match that of the alleged company or person, or end with .com, .org or .edu.
On social media accounts, kids should adjust privacy settings, to make it difficult for strangers to view accounts or post material on their page.
The fourth R: Responsibility. Dorm rooms can be treasure troves of juicy information, so students should make sure checkbooks, bank and credit card statements, Social Security cards, driver's licenses and anything else with account numbers or other personally identifiable information (PII) are kept in a locked filing cabinet, not a desk drawer. (Ideally, sensitive documents, including credit card statements, should be mailed to the parents' home or a PO Box; dorm and apartment mailboxes may not be secure.)
Get discounts on financial services from trusted companies — AARP Member Advantages »
Computers and smartphones should be locked with PINs, and employ different passwords on different accounts. Security software should be installed and regularly updated, and data should be encrypted, especially on smartphones.
If your kids have plastic, they should regularly monitor its activity (most do not), including tracking their credit report at www.annualcreditreport.com. Have them shred unsolicited credit card offers and unneeded paperwork with account numbers and/or personal information. They can get off mailing lists for preapproved credit card offers at www.optoutprescreen.com.
For information about other scams, sign up for the Fraud Watch Network . You'll receive free email alerts with tips and resources to help you spot and avoid identity theft and fraud, and gain access to a network of experts, law enforcement and people in your community who will keep you up-to-date on the latest scams in your area.
Photo: GlobalStock/iStock
Also of Interest

See the AARP home page for deals, savings tips, trivia and more.