Big Changes Coming to Reverse Mortgages
By Carole Fleck , January 08, 2013 02:43 PM
Most reverse mortgage borrowers choose to tap their home equity in a lump sum payment provided by the lender, rather than as a line of credit. But that offering is about to change.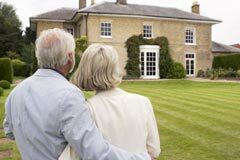 According to a spokesman for the U.S. Department of Housing and Urban Development, lenders will stop providing huge lump sums that equal all or most of the equity in a borrower's home. Instead, new guidelines about to be released will require borrowers to set aside a portion of the home equity funds to ensure they'll have enough to pay annual property taxes and home insurance premiums in the future, according to a post by U.S. News & World Report, which was first to report on the reforms.
A spokesman for HUD told me that these changes will be announced to the public soon but did not give a date.
The reforms are overdue. More reverse mortgages are in default than ever before - about one in 10 - largely because a majority of homeowners can't pay the annual taxes and property insurance required under the terms of the loans.
The industry has also taken a hit with these mortgages - to the tune of $2.8 billion in projected losses for the fiscal year ending in September.
Reverse mortgages are available to homeowners age 62 and up who own their properties outright or have a tiny mortgage left to pay. They can tap what's likely their biggest asset, the equity in their homes, and get paid by the bank in a lump sum or line of credit while they continued to live there.
But because homeowners are taking these loans at younger ages and drawing all the equity out of the home, they have no resources left in their later years to pay the annual taxes and insurance. If they don't keep up with these expenses, they risk losing their homes.
In a hint of the reforms to come, Housing Secretary Shaun Donovan testified before the Senate Banking Committee recently.
The "FHA will take immediate action to better align the program with its objective of enabling seniors to age in place," he testified.
"These changes will protect FHA from losses and reduce the likelihood of borrower defaults due to nonpayment of property taxes and insurance."
In essence, he said, the maximum amount of funds available to borrowers would be curbed to reduce the chance that they'll run out of money to pay for taxes and insurance.
Photo credit: Corbis