The Takeaway: Boomer Volunteers Needed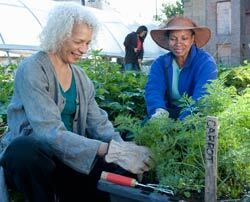 I admit it-I hear boomers and "volunteers" together, I think Jefferson Airplane (my boomer dad taught me classic rock well). But, alas, this is not a post about Jefferson Airplane. This is a post about how community charities in America-soup kitchens, school programs, etc.-could use more volunteers, and they're calling on the boomer generation to step up.
Boomers are attractive volunteers, and it's not just the sheer strength of their numbers - 77 million. They are living longer. They are more educated than previous generations. And, especially appealing: They bring well-honed skills and years of real-world work and life experience.

As more boomers transition from full-time employment to "retirement"-whatever that may mean these days-charities see an opportunity to capitalize on some of their newfound free time, according to the Associated Press. And Erwin Tan, head of Senior Corps at the Corporation for National and Community Service (a federal agency that helps connect Americans to service jobs and volunteer opportunities), said nonprofits have been making changes to attract more boomer volunteers. This might mean offering more skills-based volunteer opportunities or allowing for more flexibility in terms of hours or work locations ('tele-volunteering?').
Boomers are already a civic-minded bunch-nearly 22 million, or about a third of boomers, volunteered in their communities in 2010. But the percentage of boomers volunteering these days is on the decline, according to CNCS figures. Of those that do volunteer, religion-based opportunities are the most popular, followed by volunteering in education, social service and hospitals.
Want to explore volunteer opportunities in your area? Check out AARP's "Create the Good" program.
Wednesday Quick Hits:

Gladys Knight was sent home after this week's Dancing With the Stars. "OK, so Gladys may not have been the best dancer in this season's program (darn those Pips for never letting her bust a move!)," writes Los Angeles Times' Allyssa Lee. "Whatever. She was such a great, effortlessly cool, life-affirming presence on the show."
"There is not a real place for people between 60 and 80," said actress Isabella Rossellini, just shy of her 60th birthday. Rossellini is currently promoting the film Late Bloomers, about an aging architect (William Hurt) and his wife.
Photo: Yellow Dog Productions/Getty Images