Charlie Sifford: the Jackie Robinson of Golf
By Patrick Kiger, February 4, 2015 01:46 PM
Struggling to break the color barrier in the Professional Golfers Association five decades ago, Charlie Sifford got a tip from Jackie Robinson, who had done the same thing for Major League Baseball. "You can't be going after these people who call you names with a golf club," Robinson told him. "If you do that, you'll ruin it for all of the black players to come."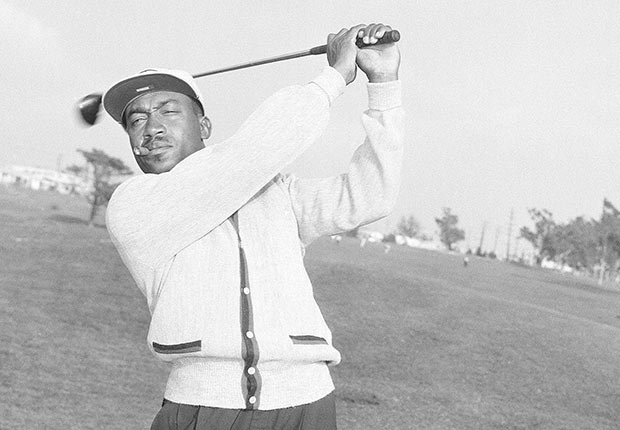 That was sage advice because Sifford, who passed away on Feb. 3 at age 92 in Cleveland, had a hotter temper than Robinson. But he kept his cool and in 1961 became the first full-time African American member of the PGA tour.

>> Famous People We Lost in 2014

Here are some facts about the trailblazing athlete.

After an arrest in North Carolina for knocking out a racist tormentor with a bottle, Sifford lived with relatives in Philadelphia, where he discovered a golf course where blacks were allowed to play.
In the early 1950s, singer Billy Eckstine hired Sifford to be his personal assistant and golf instructor.
In the all-black United Golfers Association in the 1950s, he won the National Negro Open five times.
Harassed by spectators who covered his ball with empty beer cans at the 1961 Greater Greensboro Open, Sifford still managed to shoot a 68 and finished fourth in the tournament, according to an account in the Augusta (Ga.) Chronicle.
At the Hartford Open in 1967, he became the first African American tour member to win a PGA event, the first of his three tournament victories, and went on to be elected to the Golf Hall of Fame in 2004.
After receiving an honorary doctorate from the University of St. Andrews in Scotland in 2006, he took to signing his name "Dr. Charlie Sifford."
In 2014, he became the third golfer to receive the Presidential Medal of Freedom, the nation's highest civilian honor.


>> Get discounts on health services with your AARP Member Advantages.

Here's Sifford in his playing days, demonstrating his technique.




Credit: Harold P. Matosian/AP

A lso of Interest

See the AARP home page for deals, savings tips, trivia and more.