Dangerous Search Terms Beyond 'Jimmy Kimmel'
By Sid Kirchheimer , October 10, 2014 05:30 AM
Jimmy Kimmel got laughs last week after being named 2014's Most Dangerous Cyber Celebrity. According to online security firm McAfee, one in five searches of Kimmel's name landed Internet surfers on pages that "tested positive" for online malware threats.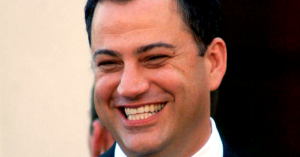 What's no joke: Once again, cybercrooks have proved that people's appetite for entertainment feeds their chances at hacking success.
Why?
"Celebrity names, coupled with the terms 'video' and 'picture,' are some of the most-searched terms on the Internet," explains McAfee chief privacy officer Michelle Dennedy. "Cybercriminals exploit consumers' need to be updated on celebrity news, leading them to sites that can harm their devices and compromise personal data."
>> Where to Find the Lowest Price on Everyday Items
But it's not just celebrity news that makes for entertainment-related risks. For years, other risky search terms — including "free music," "lyrics," "ringtones" and "games" — have often led Web surfers to malware-laden sites.
Studies indicate that entertainment search words tend to have mass appeal, allowing scammers to cast an especially wide net and particularly snag victims who seem more willing to download so-called required software they're told is needed to view a video or photographs, or to play games or music. Meanwhile, compared with other search terms, entertainment-based keywords often allow for higher placement of malicious websites within the first few pages of search engines like Google and Yahoo.
With the holiday shopping season approaching, brace for search-term risk: In past years (and expected again), cybercriminals have used the names of popular gifts — including generic words such as "toys" and "jewelry" — as click-bait to install malware onto computers and smartphones, enabling them to access users' passwords, online accounts and sensitive information, or enlist their devices into a spam-sending "botnet."
>> Sign up for the AARP Money newsletter
So if you're a culture vulture or just want to pass some time playing online games or gift shopping, here's what you need to know:
* Don't trust "free downloads." It's the single most virus-prone search term, says McAfee.
* Ignore promises that prompt you to download or install special programs before you can access the actual content. Such "required" software is often a method cybercriminals use to install malware. If the site says you need a new version of Adobe Flash Player or another popular program, download it from manufacturer websites, not from links offered in pages found on keyword-search results.
* When doing keyword searches, don't click through to a website without carefully reading its domain name. Scammers sometimes spoof URLs belonging to well-known retailers and other respected companies. Look for slight misspellings or even misplaced periods, such as co.mn, indicating a website registered in Mongolia, instead of .com.
* Get celebrity news from reputable sites such as AARP.org, CNN or those run by trusted television networks and, ideally, access them by typing in their Web address. Enjoy safe game playing here.
>> Get discounts on financial services with your AARP Member Advantages.
* Beware of boomer bait. Bruce Springsteen and Jon Bon Jovi debuted on the new dangerous-celebs list, suggesting that cybercrooks are retweaking their click-bait "as people over age 50 continue to engage online and shop, search for videos and read up on the latest news about their favorite celebrities," explains McAfee. Another trend: Males dominated the new list, after several years in which only one man appeared.
* Consider browser add-ons that help by providing a heads-up warning on the sleaze factor of many sites. Freebies include McAfee's SiteAdvisor and Trustwave's SecureBrowsing. But this extra protection shouldn't replace having current security software on your computer, smartphone and other devices — and regularly checking for security updates to detect new threats.
For information about other scams, sign up for the Fraud Watch Network . You'll receive free email alerts with tips and resources to help you spot and avoid identity theft and fraud, and gain access to a network of experts, law enforcement and people in your community who will keep you up to date on the latest scams in your area.
Photo: Angela George
Also of Interest

See the AARP home page for deals, savings tips, trivia and more.