Don't Get Soaked With a Flood Car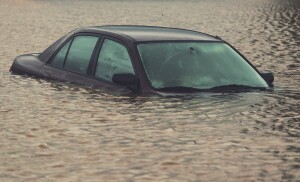 If you're car shopping, you can live hundreds of miles from the type of flooding that recently ravaged parts of Texas and still get soaked.
Each year tens of thousands of cars are damaged by floods to the point of being deemed a total loss by insurers; yet more than half wind up for sale, often on distant dealer lots, reports vehicle-tracking service Carfax. After insured owners are paid off, these so-called flood cars are hauled to a salvage yard, where they are supposed to be sold for parts.
Get the latest on protecting your money and saving for retirement — AARP Money newsletter »
Instead, they're often purchased for a song by unscrupulous vendors, who clean and resell them to dealers or individual buyers — frequently out of state, where it's easier to get titles without disclosing the water damage.
Buyers get rooked because many flood cars are still drivable, at least initially. But weeks later, rust attacks the engine and body. Wet wires dry and crack. Brakes and air bags fail, along with electrical and computer systems that control lights, windows, wipers and locks. Some may even explode.
Whenever you buy a used car, it's wise to have a trusted mechanic inspect it, away from the dealer's lot. (Hint: Some used cars get the year's largest markdowns in July.) But to guard against flood cars in particular — many of which are damaged in hurricanes (the 2015 Atlantic hurricane season began June 1) — you can engage in some do-it-yourself sleuthing as well:
* VINCheck is a free service from the National Insurance Crime Bureau that could reveal a vehicle's flood damage. Carfax and AutoCheck also offer free vehicle identification number (VIN) checks and, for about $35, more comprehensive data. VIN checks may note damage only in vehicles deemed "totaled" by an auto insurance company, so also note locations of previous owners living in areas of recent flooding.
* The nose knows. Musty smells indicate mildew that couldn't be cleaned. Overpowering fragrances suggest the seller may be hiding something.
* Be suspicious of carpeting that looks too new, is discolored or has water stains. In addition, check engine crevices, the glove compartment, door panels, under seats and the spare tire well for water lines or signs of mud, silt or rust. Beware of water condensation, fogging or water lines inside headlights, taillights and dashboard gauges.
Get discounts on financial services from trusted companies — AARP Member Advantages »
* Turn the key to ensure that accessory and warning lights and gauges (including the air bag and ABS indicators) come on and work properly. During a test-drive, repeatedly test electrical equipment — wipers, turn signals, heater and air conditioner, power windows and locks.
* Under the hood check engine wires. They should bend easily; if they are too stiff, they will likely crack. Also look for water in panels and for rusted or exposed screwheads.
For information about other scams, sign up for the Fraud Watch Network . You'll receive free email alerts with tips and resources to help you spot and avoid identity theft and fraud, and gain access to a network of experts, law enforcement and people in your community who will keep you up to date on the latest scams in your area.
Photo: shaunl/iStock
Also of Interest

See the AARP home page for deals, savings tips, trivia and more.