Eli Wallach: The Good, the Bad and the Brilliant
By Patrick Kiger , June 25, 2014 12:28 PM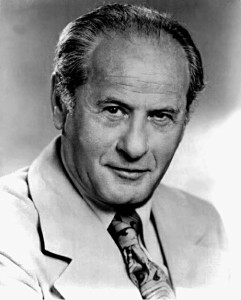 Eli Wallach is burned into our memories as the "Ugly" in Sergio Leone's 1966 spaghetti western, The Good, the Bad and the Ugly.
As Tuco Ramí­rez, the malevolent but clownish bandit who tangles with a bounty hunter ( Clint Eastwood) and a cold-blooded killer (Lee Van Cleef) over a cache of Confederate gold, Wallach gave a performance that was lauded as "inspired" by critic Roger Ebert, who wrote that "Wallach took this low-rent role seriously and made something evocative out of it."
>> Get travel discounts with your AARP Member Advantages.
Wallach, who died on June 24 at age 98 in New York City, was so good as Tuco that it's easy to forget that he appeared in 167 other roles in movies and television, in a career that spanned six decades. In classics such as Baby Doll (1956), The Magnificent Seven (1960), The Misfits (1961) and How to Steal a Million (1966), he was an exquisitely skilled actor who stood toe-to-toe with some of the biggest stars in Hollywood, from Karl Malden to Clark Gable to Peter O'Toole. When the Academy of Motion Picture Arts and Sciences honored Wallach with an honorary Oscar in 2010, it noted that he was "the quintessential chameleon, effortlessly inhabiting a wide range of characters, while putting his inimitable stamp on every role."
Here are some facts about Wallach:
Wallach dreamed of becoming a teacher and earned a master's degree in education at City College of New York before he was bitten by the acting bug at the Neighborhood Playhouse.
After serving in World War II as a captain in the U.S. Army Medical Corps, Wallach returned to New York and began a career as a stage actor. He won a Tony Award for his performance in the 1951 Tennessee Williams play The Rose Tattoo, in which he acted alongside Maureen Stapleton. He once told the New York Times that he did spaghetti westerns mostly to make money so that he could afford to do plays.
>> Sign up for the AARP Health Newsletter 
He inadvertently helped Frank Sinatra's acting career by turning down the role of Maggio in the 1953 film From Here to Eternity.
While Wallach tended to portray the "little man" who was misunderstood on the stage, movie producers usually cast him as a villain - which suited him fine, because he saw the roles as more complex.
Wallach continued to work in films into his 90s, appearing in Oliver Stone's Wall Street: Money Never Sleeps in 2010.
Photo: Wallace in 1966 (Wikipedia)
Also of Interest

See the AARP home page for deals, savings tips, trivia and more