For Myrlie Evers-Williams, and the Nation, a Landmark Moment
By Tamara Lytle, January 21, 2013 07:29 AM
When Myrlie Evers-Williams steps to the microphone Monday to give the invocation at President Barack Obama's inauguration, she brings her own significant career along with her place in history as the widow of slain civil rights leader Medgar Evers.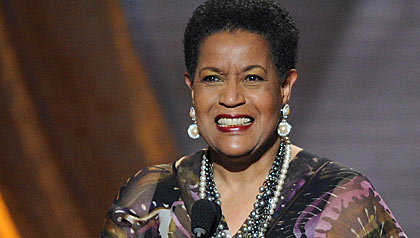 She raised her children, who were home the night their father was gunned down just steps from his front door. She fought for justice that took too many years to come. (White supremacist Byron De La Beckwith was convicted more than 30 years after the 1963 murder.) She moved to California for a fresh start. She remarried. She had a successful business career, ran for Congress, wrote books and chaired the NAACP. A few weeks ago, Evers-Williams even donned a red dress and fulfilled a dream of the grandmother who raised her by using her classical piano training to play at Carnegie Hall.

Along the way she racked up many firsts. And so being the first woman, and the first layperson, to give the invocation doesn't faze her as she celebrates the inauguration of the first black man elected - and now reelected - president of the United States.

She and Medgar Evers always knew there would someday be a black president - an act of faith in an era of hatred and discrimination. Evers said the threat of violence against them as they worked for civil rights in Mississippi was so ever-present that they trained their 8- and 9-year-old children to hit the floor and find refuge in the bathtub if they ever heard loud noises. (That's exactly what the older children did the night of the murder, taking their 3-year-old brother with them.) "Toward the end of his life we became realists ... that he would not live much longer. He challenged me to take care of his children. He said, 'You are stronger than you think you are.' "

Over the years, Evers-Williams says, "I have personally moved from being hurt, seeing my children damaged, being full of hate and determined to pay back society ... to finding ways to help my state, my nation.

"Fifty years ago this country was in turmoil - racial inequities, murders, the inability to register to vote. I believe the country has put forth an effort to find ways to eliminate most, if not all, of those issues. [But] we certainly find enough ills in American society to not rest on our laurels."

Obama has advanced the cause of civil rights, though "maybe not in an aggressive, in-your-face manner many people had hoped to see," she says, adding: "With his second term, he should be free to explore, to cajole. I want to see him as aggressive as he can possibly be with regard to education, race, health - all those basic things. Why not step up and be more aggressive than in the first term?"

Medgar Evers is buried in Arlington National Cemetery, just across the Potomac River from where she will speak Monday to hundreds of thousands. On Sunday she visited his gravesite as a busload of students arrived from Alcorn State University - the same college where, on her first day as a student, she met the dashing Army veteran who would become her husband.

"To see those young, intelligent people come together and be driven all the way from Lorman, Miss., to be in the presence of his grave and spirit did a world of good for me," she said. "It was a beautiful moment."





Photo: Evers-Williams in 2010 at the 41st NAACP Image Awards in Los Angeles. Credit: Mark Davis/Fox/PictureGroup/AP Images