It's a Fact: We Watch Too Much TV
By Patrick Kiger , July 09, 2013 12:34 PM
Remember how, when we were kids, older people warned us about spending too much time in front of the television? As it turns out, now that we're the older people, maybe our children ought to be urging us to turn off the TV and go outside to play.
A bunch of recent studies show that, at a time when younger Americans increasingly turn away from the boob tube and spend more time online, those of us 50 and older are watching more TV. In fact, we spend more time in front of the TV than any other group. Our addiction becomes even more accentuated once we retire and suddenly have more free time.
According to recent Nielsen data, presented by Marketingcharts.com, we're spending roughly twice as much time in front of the TV as people in their teens and 20s - about six to seven hours a day, in fact.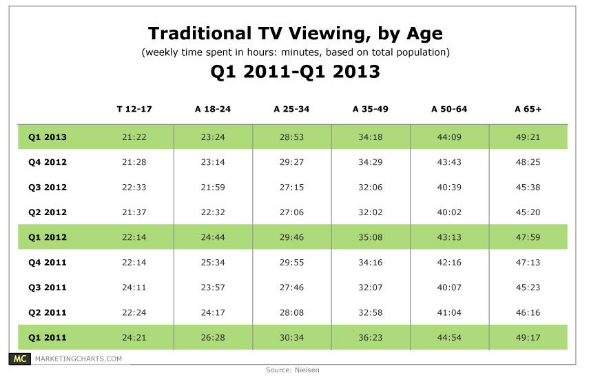 The latest data from the federal Bureau of Labor Statistics' American Time Use Survey, which gathers data a bit differently, presents a somewhat less extreme picture. The survey found that retirees spend an average of 4.5 hours a day watching TV, compared with 2.5 hours for Americans of all ages. According to BLS, our TV consumption is four times what we devote to other leisure activities, and more than five times what we spend with friends. (So much for all those coffee commercials in which neighbors are stopping by for a cuppa Joe.)
And then there's a just-released Gallup survey, which shows that while Americans of all ages most often watch TV for their news, Americans 50 and older are far more reliant on TV to find out what's happening in the world. A striking 68 percent of people 65 and older turn to TV as their primary source of news, while only 6 percent mostly use Internet sources, such as news websites and social networks.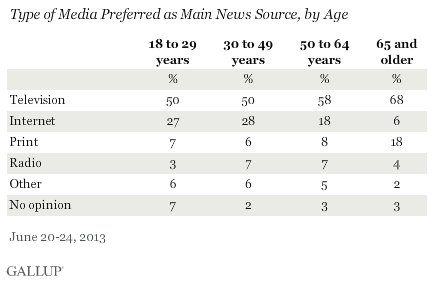 Our parents and grandparents used to warn us that all that time in front of the TV wasn't good for us, and as it turns out, they were right. A 2011 study by Dr. Frank Hu of the Harvard School of Public Health found that too much TV time increases a person's risk of developing type 2 diabetes and heart disease. And a 2010 study by researchers at the University of California-San Diego found that while older adults watch more TV than younger people, they actually tend to enjoy it less.
So put down the remote control and go walk the dog, or at least walk yourself and get some fresh air. You'll be glad you did.
Also of Interest

Join AARP: Savings, resources and news for your well-being
See the AARP home page for deals, savings tips, trivia and more