Linda Ronstadt Discloses Her Battle With Parkinson's Disease
By Allan Fallow , August 23, 2013 05:37 PM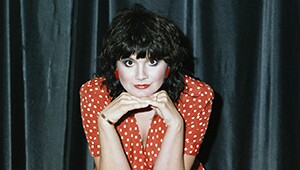 Legendary singer Linda Ronstadt, 67, told AARP today that she "can't sing a note" because she suffers from Parkinson's disease. Diagnosed eight months ago, Ronstadt began to show symptoms as long as eight years ago. But she ascribed her inability to sing to a tick bite ("my health has never recovered since then"), and believed the shaking in her hands resulted from shoulder surgery.
In a wide-ranging interview with AARP's music writer Alanna Nash, Ronstadt revealed how she discovered that "there was something wrong" with her voice.
"I couldn't sing," she told Nash, "and I couldn't figure out why. I knew it was mechanical. I knew it had to do with the muscles, but I thought it might have also had something to do with the tick disease that I had. And it didn't occur to me to go to a neurologist. I think I've had it for seven or eight years already, because of the symptoms that I've had. Then I had a shoulder operation, so I thought that's why my hands were trembling.
" Parkinson's is very hard to diagnose, so when I finally went to a neurologist and he said, 'Oh, you have Parkinson's disease,' I was completely shocked. I wouldn't have suspected that in a million, billion years.
"No one can sing with Parkinson's disease," said Ronstadt. "No matter how hard you try."
Ronstadt, whose musical career has spanned more than four decades, said she walks with the aid of poles when on uneven ground, and uses a wheelchair when she travels.
Though Ronstadt's new memoir, Simple Dreams, will appear on Sept. 17, it does not discuss her diagnosis, or the loss of her voice.
Ronstadt, who dated high profile men such as California Gov. Jerry Brown and Star Wars director George Lucas, never married but adopted a son and daughter.
She helped shape the folk-rock music scene of the late 1960s and early 1970s. She started as lead singer of the Stone Poneys, then went on to achieve fame as a solo performer. She has earned 11 Grammy Awards, two Academy of Country Music awards and an Emmy. Her albums have gone gold, platinum and multi-platinum.
She also has been an advocate of the arts; she has testified before Congress on behalf of the budget for the National Endowment of the Arts and has chaired the annual Mexican Heritage and Mariachi Festival in San Jose, Calif.
Photo: Fabio Nosotti/CORBIS
Also of Interest

Join AARP: Savings, resources and news for your well-being
See the AARP home page for deals, savings tips, trivia and more