Mac Attack (and More): The Latest in the Tech Support Scam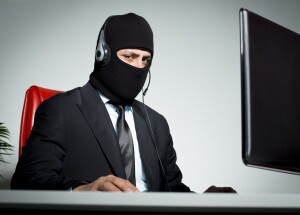 En español | For six years, telephones have been ringing off the hook with alarming but bogus news: There's a dangerous virus on your computer, and the caller – a self-described technician with Microsoft, "Windows" or an antivirus software company – says he can remove it … for a price.
But now, it's not just PC users at risk for the notorious tech support scam. Mac users (and the machines themselves) are also vulnerable – and this time, fix-it fraudsters don't even have to dial your home or business from overseas boiler-room call centers.
Borrowing a cue from another ever-growing cyberscam – ransomware, in which a pop-up claims you've engaged in illegal online activity and then instantly freezes your computer until a fine is paid – tech support scammers now get victims to contact them, courtesy of new malware that "locks" Macs and displays a message hawking their fake assistance.
Online security sleuths have discovered at least three scam domains (don't visit them!) – macsupports.info, macworldservices1.com and macsecurityalerts.co – where this malware is unleashed to freeze Macs and display pop-up messages warning about "dangerous viruses," supposed malware and unauthorized access, reports Info Security. Victims are spurred to call a phone number to fix the problem. Of course, this malware could be installed onto Macs via other websites or links.
This new Mac-targeting twist may help explain why the Fraud Watch Network has recently been bombarded with calls about the tech support scam, which continues to prey primarily (and widely) on PC users. Actually, these tricksters don't know which system you use; they just play the odds, since Windows-based PCs are more popular than OS X-running Macs.
And with the release of Windows 10 in coming weeks as a free download via Windows Update, experts predict that tech support scammers will have even more opportunity to trick consumers into believing there's a problem with their computer.
The goal of tech support scammers goes beyond just selling you a worthless "repair" costing $600 or more.
To remove the alleged problem, they claim to need remote access to your computer and everything on it – files, passwords, online financial accounts. Then they could change your settings to lock you out of your own machine.
And with your credit card information provided over the phone or on one of their rogue websites, they not only can bill you for a phony fix but can also make other fraudulent charges.
What to know to protect yourself:
* Scammers claim affiliation with Microsoft, "Windows," computer manufacturers or others, but legitimate employees of those companies don't make phone calls or send "personal" email warnings about an infection in a particular computer. When real threats are detected, a security update or warning is usually sent en masse – and directly to your computer by the manufacturer of the antivirus protection installed on your machine.
Get discounts on financial services from trusted companies — AARP Member Advantages »
* Unless you initiate contact with a trusted technology assistance firm like Geek Squad, never give strangers remote access to your computer. (They may get it by asking you to type a certain code, download a program they provide, or provide them with your username and password.)
* Don't be fooled if a phoning tech support scammer knows your name, address or even the operating system you're using. Cybercrooks glean their targets through public phone directories and often "guess" your operating system by citing more popular ones.
* At least once a week, check for updates in your security software and run scans several times a week. PC users can also check for malware with the Microsoft Safety Scanner and/or install Microsoft Security Essentials, a free program. Mac users should regularly run Software Update.
* For legitimate tech support, Microsoft users can call 877-696-7786 and Mac users can call Apple at 800-275-2273. Do not trust other phone numbers provided in calls or emails, as they may belong to scammers.
For information about other scams, sign up for the Fraud Watch Network . You'll receive free email alerts with tips and resources to help you spot and avoid identity theft and fraud, and gain access to a network of experts, law enforcement and people in your community who will keep you up to date on the latest scams in your area.
Photo: fatihhoca/iStock
Also of Interest

See the AARP home page for deals, savings tips, trivia and more.