The Takeaway: Major Medicare Fraud Bust Nets 100+ Health Care Workers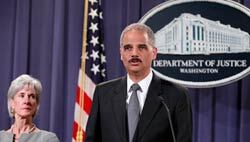 A massive Medicare fraud bust has netted more than 100 people and an estimated $450 million in false billings, the Associated Press reports. The nationwide operations have been under investigation for several months on suspicions of defrauding Medicare, Medicaid and other federal health programs.
So far, at least 91 defendants-including 59 in Miami, 22 in Detroit and nine in Houston-have been taken into custody, on charges ranging from conspiracy and money-laundering to health care fraud and violation of anti-kickback statutes. Those arrested include nurses, therapists, social workers, a pharmacist and ambulance companies.
An alleged scheme in Baton Rouge was one of the worst, officials say. There, seven community health center workers were charged with recruiting nursing home patients and homeless people-including some who were mentally ill or drug addicts-and providing them with medically inappropriate or sometimes no services in order to bill Medicare for their treatment.
"The results we are announcing today are at the heart of an administration-wide commitment to protecting American taxpayers from health care fraud," said Attorney General Eric Holder at a press conference. "We are determined to bring to justice those who violate our laws and defraud the Medicare program for personal gain."
Thursday Quick Hits:

Photo: Haraz N. Ghanbari/AP