The Takeaway: How You Can Help Fight Medicare Fraud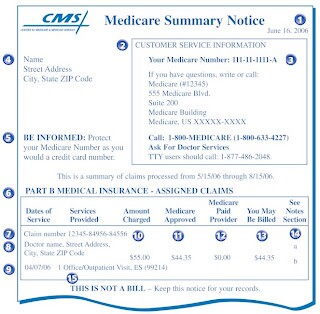 You Can Help Fight Fraud: Officials are enlisting Medicare recipients to help fight health care fraud. Updated, "consumer-friendly" Medicare billing statements will make it easier for people to monitor their own statements for bogus charges.

You can make a difference!" the revamped statements say. "Last year Medicare saved taxpayers $4 billion - the largest sum ever reported in a single year thanks to people who reported suspicious activity to Medicare."

The new statements also promise a reward of up to $1,000 for a tip that leads to uncovering fraud. The reward isn't actually new, but it hasn't before been advertised on statements.
Current Medicare billings statements-or "summary notices," as they're often called-are full of medical jargon and diagnostic code abbreviations. But "consumer protection starts with making sure consumers not only get timely and accurate information, but that they understand what services they're receiving from Medicare," said Marilyn Tavenner, Medicare's acting administrator.
To this aim, the new statements will feature larger type, and descriptions of medical services in plain, jargon-free English.
Coming Soon: Multi-Employer Retirement Plans? Many small-business owners say they would like to offer employees a retirement plan, but find doing so prohibitively expensive or complicated. Legislation soon to be introduced in the U.S. Senate aims to change this, by letting small businesses pool resources and assets with other small businesses to form multi-employer retirement savings plans.
As it is, only 36 percent of people who work for a business with under 100 employees have access to a company savings plan, such as a 401(k).
At a Senate Special Committee on Aging hearing looking into the problem, committee chairman Herb Kohl, D-Wis., said one benefit of these multi-employer plans would be that financial experts could take on administrative and fiduciary duties that small-business owners themselves don't have the time or expertise to monitor.
Thursday Quick Hits: