Meryl Streep Worried She Was 'Too Ugly to Be an Actress'
By Lorrie Lynch , April 24, 2014 01:42 PM
The greatest actress of our time, Meryl Streep, admitted to a college audience in Indiana recently that back in her youth she thought she might be "too ugly to be an actress." Unbelievable.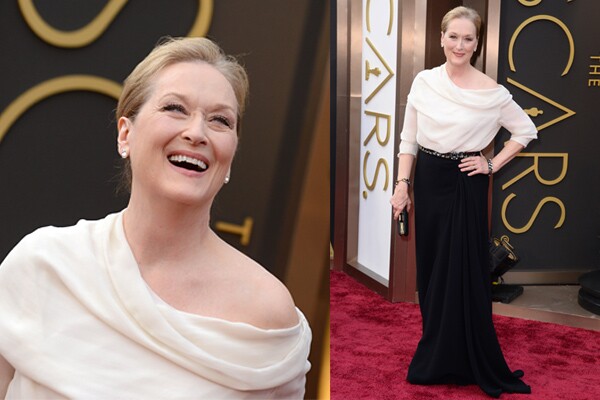 I have no doubt that Streep's admission is authentic - far too many young women are insecure about their looks when in fact they are goddesses who should be appreciating their youthful blush. But it's both telling and frightening that a woman with such obvious and true talent might have been dissuaded from her life's calling because she was insecure about the way she looked, which, by the way, was then and is now stunningly beautiful.
>> Sign up for the AARP Leisure Newsletter
Think of Streep in the arms of Robert De Niro in The Deerhunter, or in bed with Alan Alda in The Seduction of Joe Tynan - all that gorgeous blonde hair tumbling about. Recall what a mesmerizing couple she and Jeremy Irons made in The French Lieutenant's Woman, or she and Kevin Kline made in the heartbreaking Sophie's Choice, or she and Robert Redford made in Out of Africa. Among their sexy scenes is the one in which Redford washes Streep's hair; they may as well have been having sex.
Beauty adds to sexiness but is not the whole of it, and like many youthful gorgeous people, Streep may not have understood the power of her sensuality when thinking she was "too ugly." When she wants to, Streep can ooze sexuality - even now into her 60s and on or off screen. In 2008, at the age of 59, she had three mightily attractive men vying for her attention in the summer blockbuster she headlined, Mamma Mia! At 60, in 2009's It's Complicated, her ex-husband (played by Alec Baldwin) finds her so desirable he cheats with her on his much younger wife - but then has to compete with the wonderous Steve Martin for her affections.
>> Get entertainment and dining discounts with your AARP Member Advantages.
The most Oscar-nominated actor ever is now a long way from those girlish worries about her long nose or not-so-cool glasses. Her immense talent has given her control and choice in a profession that doesn't offer much of either to many women. And the confidence of that power has allowed her to play amazing characters without regard for their looks. Think Maggie Thatcher or Julia Child .
Streep, who turns 65 in June, has built a lovely well-rounded life as well. It includes four artfully-talented kids and Don Gummer, her husband of 35 years, who I bet makes her feel like the beauty she always was.
Photo: Jordan Strauss/Invision/AP
Also of Interest

See the AARP home page for deals, savings tips, trivia and more