'Missed' Jury Duty Verdict: Easy ID Theft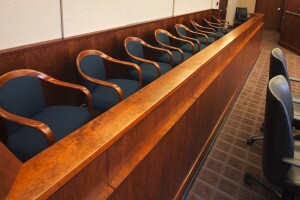 In the Phoenix area, the callers claim to be from the U.S. Marshals Service. In Huntsville, Ala., it's a self-described "deputy marshal" with the sheriff's office who has already scammed at least 53 people in recent weeks with this threat:
You failed to report for jury duty and now have to face a judge … and jail time.
Although it's been around for 10 years, the "jury duty scam" remains one of the most successful fear-provoking impostor schemes, both for eliciting a quick payoff and for gleaning details for possible longtime identity theft. Historically, summer has been an especially hot time for this hoax, and this year is no exception. Even when not using "marshal" in some form (a new twist for 2015), this ruse has recently resurfaced across the U.S.
How it works: You get a phone call (although bogus emails and letters are sometimes used) warning of imminent arrest because you didn't report for mandated jury duty. This news appears authentic, thanks to caller ID spoofing the names and numbers for a courthouse or law enforcement agency, and it aims to scare you into making the usual response: "Whaaat? I never received a jury duty summons!"
Then comes the gotcha: Alleging to help you avoid handcuffs, the caller either demands that you pay a fine by credit card, wire transfer or prepaid debit card, or offers to "check our records" by verifying your identity once you provide your Social Security number, birth date and other sensitive details valued by identity thieves.
Do neither. If you get a phone call about missing jury duty, the verdict is this: Immediately hang up. Here's why:
* As with official notifications that order you to serve on jury duty, no-show summonses are delivered by U.S. mail. In rare instances, prospective jurors may be telephoned by legitimate courthouse employees — but only after an authentic jury duty summons was mailed but returned to sender because it couldn't be delivered.
* Bona fide jury duty officials don't ask for Social Security numbers, birth dates or other sensitive information over the phone.
* Legitimate police officials don't phone with advance notice of arrest about missing jury duty or any other alleged infraction.
Get discounts on financial services from trusted companies — AARP Member Advantages »
* Most bogus "you missed jury duty" phone calls come in the evening — after the courthouse has closed and its employees have gone home … just like intended victims, who are more likely to be reached.
* Caller ID can easily be manipulated to display the name and phone number of any agency or business, so don't be fooled. If you have concerns, look up for yourself the courthouse phone number (don't rely on caller-provided numbers) and verify missed jury allegations with the jury duty coordinator or court clerk's office.
For information about other scams, sign up for the Fraud Watch Network . You'll receive free email alerts with tips and resources to help you spot and avoid identity theft and fraud, and gain access to a network of experts, law enforcement and people in your community who will keep you up to date on the latest scams in your area.
Photo: jimkruger/iStock
Also of Interest

See the AARP home page for deals, savings tips, trivia and more.