New YouTube Series Shows Drama, Humor in Dealing With Aging Parents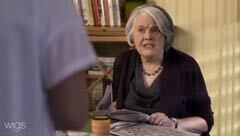 Here's the synopsis given for Ruth & Erica, a new YouTube series starring Maura Tierney and Louis Smith: A woman struggles with her mother's reluctance to make the life changes necessary in light of her increasing frailty. Judging from the pilot episode, which premiered yesterday, that is indeed the meat of the matter. But it fails to capture the warmth and humor in writer/director Amy Lippman's script or Tierney's and Smith's performances.
See Also: Helping Aging Parents Move >> 
Luckily, you can check Ruth & Erica out for yourself if you've got a few moments - each of the series' 13 episodes runs under 10 minutes. The show is produced by WIGS, a digital channel that makes original, scripted series and films "about the lives of women."
I was pleasantly surprised by the pilot episode, which managed to make me chuckle out loud several times while covering some pretty weighty material. In it, Smith and Tierney, who play the title characters, are joined by 81-year-old actor Philip Baker Hall as Erica's father (Michael C. Hall and Steven Weber will show up in later episodes). It's the first day of middle-aged daughter Erica's visit to her parents' house (for what reason, we don't know), and dad seems cheerfully oblivious to any tension. But mom seems to take everything Erica does - from throwing out moldy, unidentifiable fruit in the fridge to taking the driver's seat in her parents' car - as an affront.
See Also: How do you know when it's time for your loved one to limit or stop driving?
Here's a snippet of dialogue about the driving business:

Ruth: Asking for his keys? 'I don't feel safe.' Well you don't say that to a father, to your father. The man has kept you safe your whole life. Do you know how it feels hearing that from you? The man has never had an accident. Never even gotten a parking ticket.
Erica: But he fell asleep at a stop sign.
Ruth: Once! Oh, I never should have told you that. You've never gotten tired driving home from work?

And for now, it's easy to see where they're both coming from - though, as New York Times blogger Paula Span reveals, it will come out later that Erica's father is in the early stages of dementia. Lippman told Span:

I decided to write about something I was experiencing, and all my friends were experiencing - parents who'd been independent and self-sufficient, but were beginning to need more support and guidance.

During production, "almost everyone who worked on the series, including the crew, came up to me and said, 'My grandmother.' 'My parents.' 'My sister had to move in with my mother,'" Lippman said. "I felt this reverberation."
New episodes of Ruth & Erica will air on Mondays, Wednesdays and Fridays; you can catch them all here. Check out episode one below.
Tuesday Quick Hits:

- NYC mandates healthier hospital food. City hospitals will soon be banned from selling sugary or fatty foods in cafeterias or vending machines, as part of the Health Hospital Food Initiative led by Mayor Michael Bloomberg.
- Groups using e-records to commit fraud. Health officials say there are "troubling indications" that a group of five hospital-related interest groups are using electronic records to defraud Medicare.