Personal Scams, Not Data Breaches, Are Real Cons of 2014
By Sid Kirchheimer , December 26, 2014 07:30 AM
While some 750 documented data breaches and the hacking of 160 million personal and business and government payment records dominated the news in 2014, the prime calling cards of scammers trying to steal your hard-earned money were intimidation and fear. Here's how the scams work:
IRS Impostor Scam: In what officials had already called " the largest scam of its kind" in March, scammers continue to pose as agents of the Internal Revenue Service and U.S. Treasury Department in live and automated phone calls.
Often using software to display the actual IRS phone number — 800-829-1040 — on recipients' Caller ID, they claimed back taxes were owed, threatening arrest, deportation or seizure of property or businesses unless immediate payment was made via Green Dot MoneyPak prepaid debit cards or wire transfer — payment methods the real IRS doesn't request. By October, at least 130,000 complaints were filed about this scam, with reported losses exceeding $8 million.
>> Get discounts on financial services with your AARP Member Advantages.
The Medical Alert Scam: Although this scam began in 2013, it went viral this year. Beginning with nerve-wracking warnings of "increasing rates of death and injury from falls" and other home emergencies, robocalls flooded homes claiming that a free medical alert device was yours for the asking. In addition to false claims that call recipients had been recommended by doctors, AARP or others, or that the device had already been paid for, this year had another bogus incentive: promises of thousands of dollars in free coupons. The gotcha: After providing credit card data allegedly for shipping and activation, recipients were charged monthly fees for devices that never arrived.
Although the Federal Trade Commission and Florida attorney general shut down one major operation said to have conned seniors out of $23 million, this scam continues. (I received four calls this week alone.) As with other robocall cons — like those continuing offers to lower your credit card interest rate (for a fee and possibly to collect sensitive information for identity theft) — recipients are never identified by name in a supposedly "personal" offer.
The Tech Support Scam: In another longtime ruse that went into overdrive, scammers continued to pose as employees of Microsoft or online security software providers with alarming news: A potentially disabling virus was "noticed" on your device that they could fix.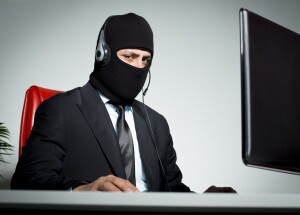 These phone calls scam you in two ways: First, you're instructed to click on a provided link or take other steps to give scammers remote access to your computer, along with your files, passwords and other sensitive information. And then, you're billed up to $600 for their fraudulent fixes, providing credit card information that also could lead to identity theft. This year, the support scammers added a new trick: To get bank account details, they called past victims with claims they were entitled a refund for the previous false fix.
The Arrest Warrant Scam: Legitimate police don't give advance warning of impending arrest. But scammers claiming to be cops do it all the time — and for bogus reasons such as missing jury duty or failure to pay an owed debt. It's a ruse to get you to pay a fine, typically by prepaid debit card, to avoid handcuffs.
As those phone calls continued — often fooling recipients' Caller ID to display phone numbers of actual law enforcement agencies — the new twist in 2014: Fake arrest notices sent by email, fax or U.S. mail, claiming to be from federal or local courts (or sometimes attorneys). In truth, legitimate warrants are delivered in person by a U.S. marshal or other law enforcement officer.
The Grandparent Scam: Some 10,000 American grandparents each year continue to fall for this now classic con, in which scammers pose as beloved family members who had been arrested or injured and in need of quick cash — typically requested via a wire transfer.
>> Sign up for the AARP Money newsletter
Scammers continue their success by often gleaning actual names of grandchildren of those called from online obituaries, ancestry websites, Facebook and online telephone directories that list "possible relatives" and their ages. Learn from an actual scammer how he operated even without citing a grandchild's name — and how to protect yourself.
For information about other scams, sign up for the Fraud Watch Network . You'll receive free email alerts with tips and resources to help you spot and avoid identity theft and fraud, and gain access to a network of experts, law enforcement and people in your community who will keep you up to date on the latest scams in your area.
Photo: fatihhoca/iStock

Also of Interest

See the AARP home page for deals, savings tips, trivia and more.