Poll: Half of Americans Prefer TV News; Older Adults Pay Closest Attention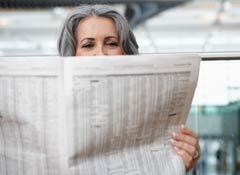 Television is still the preferred news source for half of Americans, though it may not retain its dominance for long. While about 60 percent of older adults prefer TV news, just 34 percent of 18- to 35-year-olds say it's their top choice, with 55 percent of this younger cohort preferring Internet news sources. And that's far from the only generational difference in news preferences and interest. According to a recent Harris Interactive poll, the age groups differ not only in their preferred news sources but in the ways they consume and pay attention to news, as well.
News Interest: Overall, older adults expressed greater interest in news. Just 10 percent of boomers and 6 percent of the oldest group (ages 67 and up) said they're "not really interested" in the news, compared to 23 percent of Gen X and 31 percent of the youngest group.** The percentage of adults in each age group who described themselves as "news junkies" hovered around 12 percent, with men nearly twice as likely as women to put themselves in this category.
News Attention Span: Older adults also seem to pay closer attention when reading the news (online or in print). Though less than half of all respondents either read every word of an article or skim full articles, those 67 and older were more likely than other age groups to do so. And while 11 to 12 percent of Gen X and Y respondents say they read headlines only, just 5 percent of boomers and 2 percent of the oldest respondents said they're in this habit.

With the expectation being that online news will further displace TV over time, incorporating online news consumers' habits and predilections into reporting will be increasingly important," said Jill Gress, vice president of Harris Poll Insights.

"This means concise reporting, given online news consumers' stronger tendency to read articles more selectively," she continued, "and increased use of supporting data, as online news consumers are much more interested in this than those preferring TV."
News Mode: Of all respondents, 36 percent said they preferred online news, 50 percent preferred TV news and just 10 percent preferred print news (alas!). Respondents 67 and up were most likely to choose print as a preferred news source (22 percent versus 13 percent of boomers, 7 percent of Gen X and 5 percent of Gen Y).
News Bait: Asked what enticed them to read an online or print article, 54 percent of respondents said a catchy headline does it; 44 percent said an interesting picture, 43 percent "interesting data or research," 28 percent "an interesting infographic," and 13 percent "who the author is." The oldest respondents were most likely to be drawn in by pictures and data or research; the youngest group was most likely to be drawn in by infographics.
** Harris called the youngest group "Echo Boomers," though this generation is more commonly known as the Millennials or Gen Y, which are the terms I've used. The age breakdowns Harris used for the youngest two generations are also atypical, with 18- to 35-year-olds considered Gen Y and 36- to 47-year-olds considered Gen X.
Wednesday Quick Hits:

- Don't call it a commune. Cohousing is gaining popularity among retirees, but the movement is only tangentially related to hippie-era communal living. Cohousing emphasizes privacy but with social contact among members, advocates say. Residents live in private homes but share certain facilities (gardens, courtyards) and often weekly meals. "What's the best thing about cohousing? We know our neighbors really, really well," said Joani Blank, 75, a former board member of the Cohousing Association of the United States. "What's the worst thing? We know our neighbors really, really well."
- Boomers driving up urban rents? Yes, say some experts - though boomers aren't alone in the blame. The trend among both recent retirees and recent college graduates toward renting over buying and urban over suburban living is pushing up city rents, they say.
Photo: Stephanie White/Getty Images