Polly Bergen: An Entertainer Who Did It All
By Patrick Kiger , September 22, 2014 11:58 AM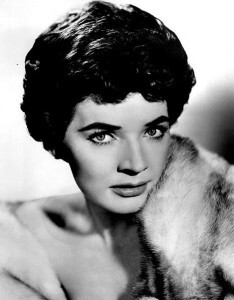 Actresses and singers come and go, but Polly Bergen had a multifaceted entertainment career that stretched from 1949 to 2012 because she was a star at just about everything she tried.
Bergen, who died on Sept. 20 at age 84 in Southbury, Conn., won an Emmy in 1958 for her portrayal of alcoholic torch singer Helen Morgan on Playhouse 90, and she made a lasting impression on the big screen as the terrorized wife of a lawyer (Gregory Peck) stalked by a psychopathic ex-convict (Robert Mitchum) in the classic 1962 thriller Cape Fear. She appeared in more than 80 other roles in films, TV series and made-for-TV movies as well, ranging from the 1983 miniseries The Winds of War to The Sopranos and Desperate Housewives in the 2000s.
>> Famous People We've Lost in 2014
But that was just one of her careers. At various times, she was a sultry voiced singer who commanded $50,000 a week in Las Vegas, a popular TV quiz show panelist, and a Broadway star who at age 70 was nominated for a Tony for her role in Stephen Sondheim's Follies. She somehow also managed in the 1960s to found a successful cosmetics firm that she eventually sold to Faberg é.
Here are some facts about Bergen:
She grew up roaming the Midwest with her father, an itinerant construction worker.
She began singing professionally at age 14 on a Richmond, Ind., radio station, with her father accompanying her on the guitar.
Bergen broke into Hollywood in 1949 with a small role as a cantina singer in Across the Rio Grande. She went on to appear in three comedies with the then-hot team of Dean Martin and Jerry Lewis: At War with the Army (1950) That's My Boy (1951) and The Stooge (1952).
After a successful career in the 1950s as a nightclub chanteuse and recording such hit LPs as 1961's All Alone by the Telephone, she gave up singing for more than three decade because of voice problems. "I had a choice of quitting smoking or singing another chorus of 'Night and Day,' and I chose to continue smoking," she said in a 2001 CBS News interview. In 2000, after giving up cigarettes for health reasons, she made a triumphant return to the nightclub stage, selling out an engagement in New York. Here she is, singing "By Myself" in 1961.
Here's a 1958 appearance by Bergen on What's My Line.
In the 1964 Hollywood comedy Kisses for My President, she portrayed the first female commander-in-chief.
>> Get discounts on health services with your AARP Member Advantages.
She was the author of three advice books: Fashion and Charm (1960), Polly's Principles (1974) and I'd Love to, but What Will I Wear? (1977).
Bergen lost most of her savings in the 1987 stock market crash, and in her 70s, was compelled to start over financially. At one point, she said, she was down to $35 in the bank.
Bergen played a stuck-up society matron in director John Waters' offbeat 1990 comedy Cry-Baby.
Her last big screen role was playing the grandmother of star Chris Colfer's character in his 2012 film Struck by Lightning. Colfer paid tribute to her in this Instagram posting.
"I have to be very honest — there's not an awful lot of regret in my life," she explained in the 2001 CBS News interview. "I think that, you know, you learn from everything ... and then, sometimes, you don't."
Here's Bergen in the trailer for Cape Fear:
Photo: CBS Television publicity photo for To Tell the Truth (1960)
Also of Interest

See the AARP home page for deals, savings tips, trivia and more