Regis Philbin Cooking Up a Return to Television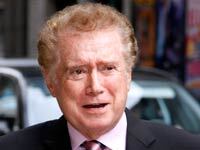 When Regis Philbin said goodbye to morning television last November, he insisted he wasn't retiring, per se - just changing things up. True to his word, the world-record-holding talk show host (he's logged more on-air hours than anyone in the history of television, according Guinness World Records) will return to TV next week as a recurring guest in Rachael Ray's kitchen.

I tried to make a distinct point that I wasn't retiring, that I was moving on," he told USA Today. "Everybody said 'retired'!"

Philbin, 81, will co-host Ray's cooking show once a month - a time commitment he's enthused about.

It's fun to be back on TV when you don't have to do it every day," he said.

Though this will be Philbin's first recurring gig since leaving Live!, it isn't his first time back on the tube. Philbin guest-starred as Betty White's love interest on an episode of Hot In Cleveland last season. He'll appear in a second episode this season, set to air on Nov. 28.
As far as appearing on the Rachael Ray Show, the gig is based more on Philbin's charisma and chemistry with Ray than any culinary skill. Philbin insisted sandwich-making is about the extent of his kitchen repertoire.
Wednesday Quick Hits:

- Aging veterans eligible for long-term care coverage. A little-known Department of Veterans Affairs benefit can cover the costs of in-home caregiving, assisted living or a nursing home. A veteran and spouse could get up to $2,019 monthly; a vet's widow could get up to $1,094 per month.
- AARP draws A-list crowd. The AARP national conference takes place in New Orleans this week. Billy Crystal, LeVar Burton, Stevie Nicks, Gladys Knight and Melissa Etheridge are among the celebrities who will be there. Rep. Paul Ryan will also drop by, and President Barack Obama will address attendees via satellite.
- Heading back to school? Fox News details the things an older worker should consider before continuing education.
- Alarming new obesity stats. According to the new projections released by Trust for America's Health, more than half the residents of most states will be obese within 20 years. By 2030, 13 states are projected to have adult obesity rates above 60 percent, 39 states might have rates above 50 percent, and every state would have rates above 44 percent (even Colorado, currently the thinnest state).
Photo: Donna Ward/Getty Images