Retiree Health Care Costs May Gobble Up Your Social Security Benefits
By Carole Fleck, April 2, 2015 04:46 PM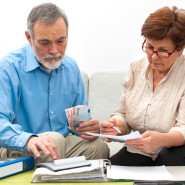 A new study projects that a couple retiring this year could spend 67 percent of their lifetime Social Security benefits on out-of-pocket health care costs. And that's even when couples have Medicare Parts B and D with supplemental insurance.

The news gets worse for today's 55-year-olds who plan to retire in 10 years at age 65, the year in which they're eligible for Medicare. According to the 2015 Retirement Health Care Cost Data Report, almost 93 percent of that couple's Social Security benefits may be needed to pay for health care. The review was conducted by HealthView Services of Danvers, Mass., which provides health-cost data to financial advisers.

Get the latest on protecting your money and saving for retirement — AARP Money newsletter »

The projected costs for a couple retiring in 2015 were based on average combined Social Security benefits of $25,332 a year, with an annual 2 percent cost-of-living adjustment and a 23-year period of retirement. The analysis used claims data from 50 million health care cases and actuarial data to project health care cost inflation. It said costs would rise by an average of 6.5 percent a year. Expenses for long-term care were not included.

Financial planners tell us that money set aside for health care expenses will have to last longer as life expectancies rise and as people spend more years in retirement. To figure out your costs in retirement, click on AARP's calculator to see if you're saving enough.

We asked HealthView to crunch the numbers for couples retiring in 2015 at age 66, who are eligible for full Social Security benefits. They were expected to pay $254,405 in total health care expenses (which includes Medicare Parts B and D, and supplemental insurance) during their twilight years. When you add in vision, hearing and dental, the figure rises to $377,597.

We also asked HealthView to calculate the numbers for couples who are age 56 today and plan to retire in 10 years. They were projected to shell out $305,393 (in today's dollars) for health care in retirement, which becomes $442,323 with dental, vision and hearing expenses tacked on. We asked HealthView for those specific calculations because researchers originally used couples who were ages 65 (Medicare-eligible) and 55, not 66, at which you are entitled to full Social Security benefits. Either way, it's clear that people must set aside a lot of cash for medical care.

"The report demonstrates that health care costs will account for a very significant and growing portion of retirees' budgets," Ron Mastrogiovanni, founder and CEO of HealthView Services, said in the report. "The data also shows that Medicare-related costs are only part of the story. Retirees need to plan for health-related expenses not covered by Medicare, and the potential impact of income-based Medicare surcharges."

If your adjusted income is $170,000 as a couple or $85,000 as an individual, you could be paying surcharges of 35 percent to more than 200 percent on the premiums for Medicare Part B, which covers doctor visits, and Part D, which pays for prescription drugs, the report said.

The HealthView calculations were higher than those in a widely publicized report in June 2014 by Fidelity Benefits Consulting. It said a 65-year-old couple retiring in 2014 would need an average of $220,000 (in today's dollars) to cover medical expenses throughout retirement.

Photo: Alex Raths/iStock

Also of Interest:

See the AARP home page for deals, savings tips, trivia and more.