The Takeaway: Are You Practicing Safe Sexting?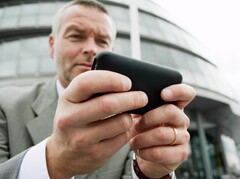 All right, fess up: How many of you have sent a text message that would make your mama (or teenage daughter) blush? It seems sending X-rated texts--aka " sexting"--isn't just an indulgence of the young: A recent online survey  found one in 10 Americans age 55 or older use their cellphones to send explicit texts.
One in five Americans of all ages admitted to sexting, and about 11 percent said they used their phones to record and send risqué videos of themselves. My oh my.
The survey was conducted by Harris Interactive on behalf of mobile phone security company Lookout. In  a company blog post, Lookout offers a "warning label for the more mature set" about cellphones and privacy.

"We've got a lot of private info on these phones, and if you're sending suggestive or scandalous text messages, please sext responsibly and take precautions to secure your sexting."

Yup, sexting is all fun and games until a third party gets their hands on those private messages -- and that's not such a remote possibility, considering 69 percent of respondents said they had lost their cellphones before. Here are a few of Lookout's safe sexting tips:

Turn-off your text message pop-ups, so people nearby don't get a peek at any photos or texts you don't want seen.
Set a passcode for your phone.
There are also apps (including one made by Lookout) that can help you remotely lock or remove photos and contacts from your phone in case it goes missing.
Thursday Quick Hits:

Goodbye, Andy. Television icon Andy Griffith died July 3, at age 86. AARP entertainment guru Bill Newcott pays tribute here.
Heart attack inspires new work from aging dancer. Now 61, Brian Webb has created a show that uses dance, live music, comedy and spoken word to tackle aging, mortality and the massive heart attack he suffered in 2010. "I thought I was going to be a hedonist all my life," he told the Vancouver Sun. "After that it was 'Sorry, pal, you're not.'
Corvette hits the big 60. The first Chevrolet Corvette rolled off the assembly line June 30, 1953, promising "all of the thrills of the open road." Its introduction "marked the first time a U.S. automaker succeeded in putting the feel of a European sports car into a mass market vehicle," writes Ted Reed at The Street.
Photo: Getty Images