Scam Defense During Spring Travel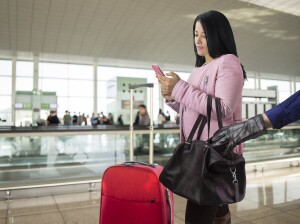 This spring break will set a record for air travel during March and April, industry experts say. On the ground, expect the same old scams.
Heading to Beijing? "The most common scam involves people persuading you to go with them for a tea ceremony, which is often so pleasant that you don't smell a rat until several hundred dollars appear on your credit-card bill," reports travel.aarp.org, a useful resource for learning about all things travel (including scams). In India and Thailand, the reigning ruse involves jewelers selling gems that are really colored glass, Peter John, author of Around the World in 80 Scams: An Essential Travel Guide, tells the Washington Post. When traveling in the United States, protect yourself from these popular ploys.
Disappearing wallet: During peak travel season, pickpockets swarm to tourist destinations, often working in teams. One might divert your attention — with a bump, a spilled drink or questions — while another steals your wallet. Former pickpocket Bob Arno says the best defense is a small pouch, worn inside pants, to carry valuables. Another option for men is to carry a wallet in the breast pocket or in the front pocket of tight pants. Women should consider keeping credit cards and most cash in a makeup bag, rather than a wallet. And they should wear their handbag diagonally, not dangling from one shoulder, and use one that has straps with metal mesh.
Ways to save, expert investment advice, scam alerts and more! — AARP Money Newsletter »
Wi-Fi dangers: Most public Wi-Fi hot spots are unsecure, and most users are clueless as to their risks. The biggest danger is falling victim to a "man in the middle" attack, which is when a hacker creates a barrier between your device and the Wi-Fi connection, so instead of working directly with the hot spot, you send your transmissions to the hacker. On vacation or elsewhere, avoid doing sensitive transactions like online shopping and banking via public Wi-Fi. Get other tips here.
Takeout fake-out: Don't trust photocopied fliers for eateries left under hotel doors, especially if they include only a phone number but no address. In one scheme popular in family-friendly theme park locales, when you call to order pizza or Chinese food, you're asked for a credit card. The swindlers get your account number and confirmation code to make fraudulent charges; you get no food or, at best, something less than appetizing. Better idea: Ask the hotel front-desk clerk for recommendations, and pay in cash after your meal is delivered.
Front-desk fraud: In this longtime ruse, hotel guests get a phone call in the wee hours, supposedly from the front desk. There's a problem with your payment, the caller says, asking to confirm your credit card number. Only it's not hotel staff calling (they'd wait until morning); it's a scammer who may be using a lobby phone. Never give your account numbers in unsolicited calls (especially those that wake you); contact the front desk yourself.
Get discounts on financial services from trusted companies — AARP Member Advantages »
Cabbie cons: Don't peruse maps or take in the scenery while in taxicabs; those kinds of distractions could prompt a "long haul" rip-off in which drivers take an unnecessarily longer route to hike up the fare. In another common scam, a cabbie takes you to an airport or a hotel, opens the trunk and then hands over your change before removing your luggage. While you're counting it, he slams the trunk and quickly drives off — with your baggage. To avoid this scenario, inquire at hotels and airports how much the fare to your destination should be and which taxi companies to use. Once in a cab, write down the driver's name, cab number and company.
For information about other scams, sign up for the Fraud Watch Network . You'll receive free email alerts with tips and resources to help you spot and avoid identity theft and fraud, and gain access to a network of experts, law enforcement and people in your community who will keep you up to date on the latest scams in your area.
Photo: Manuel Faba Ortega/iStock
Also of Interest

See the AARP home page for deals, savings tips, trivia and more.