The Takeaway: Sex and the Nursing Home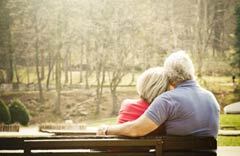 I'll admit I've not thought much about the sex lives of nursing home residents. But several Australian researchers have, with particular concern for patients with dementia. In a new paper in the Journal of Medical Ethics, they charge residential care facilities with denying residents "a basic human right" by discouraging or prohibiting consensual sex.
Consent, of course, is part of the issue when it comes to people with cognitive impairment such as dementia. But the start of dementia doesn't mean the end of desire.

The formation of relationships, physical intimacy and the expression of sexuality are a basic human right and a normal and healthy part of ageing," write the authors, from the Australian Centre for Evidence-Based Aged Care.

When it comes to the general patient population, most nursing facilities don't have formal policies against sex, but the environment is often prohibitive--no locks on doors, rooms with only single beds, etc. Staff either disregard or discourage sexual activity because of things like ageism, safety concerns and fear of legal problems (re: competence and consent).
For residents with dementia, "sexuality is viewed with even greater anxiety, either being labelled 'inappropriate' or a 'challenging' behavior or as a risk to the resident," the authors note. But dementia isn't an all or nothing proposition, and there's nothing "inappropriate" about people in the early stages of dementia (and Alzheimer's disease) continuing to be sexually active.
The report urges nursing homes and other long-term care facilities to "respect the rights of residents with dementia to make decisions about their sexuality, intimacy and physical relationships."
Tuesday Quick Hits:

Forced to pay off parents' medical debts. Twenty-nine states have "filial support" laws that allow long-term care facilities to go after adult children for unpaid bills. Using the law is rare in most states, but in Pennsylvania, nursing homes have begun routinely "using the law to prod families into paying their elders' bills or completing Medicaid paperwork on their behalf."
Building better neighborhoods for an aging America. A new book, Independent for Life, explores the myriad individual and collective ways we can promote aging in place. "It's interesting to hear from a contractor who retrofits homes, an urban planner discussing neighborhood walkability, and the mayor of Chattanooga explaining, after public officials agreed to spend a day in wheelchairs, how the city has improved access and infrastructure," writes New York Times blogger Paula Span.
Photo: Vetta/Getty Images.