Stand Guard Against Veterans Scams
By Sid Kirchheimer , November 07, 2014 06:00 AM
As we honor our former military personnel, Veterans Day is also a good time to recognize the year-round attempts to defraud them and to take advantage of those who appreciate their sacrifice and service.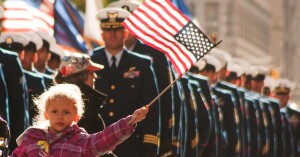 In some scams, veterans are specifically targeted. In others, fraudsters impersonate active-duty or former soldiers or claim to be working on their behalf to con patriotic civilians. A rundown of common schemes:
Charity scams: Bogus charities that claim to benefit veterans are also among the most successful schemes, especially in duping older donors. (Other hot-button hoaxes include those that allegedly help disaster victims, sick children, and police and firefighters.) Although all types of charity scams tend to increase during the holiday season of giving, Veterans Day, along with Memorial Day, is prime time for swindles in the name of service personnel.
>> Top Seasonal Scams to Avoid
Phishing: Like Medicare, the IRS and other federal agencies, the Department of Veterans Affairs (VA) does not make unexpected telephone or email requests for personal or financial information already on file, or to announce program changes. Official correspondence will come by U.S. mail. Before providing any details, verify requests by calling these VA toll-free phone numbers.
Benefits schemes: Some promise cash payouts for pensions and future benefits for disabled vets, but they typically pay only 30 to 40 percent of their actual worth, according to the Better Business Bureau. Other hoaxes involve self-proclaimed "veterans advocates" who promise additional VA benefits by transferring retirement assets into an irrevocable trust that's unsuitable for many older vets. And remember, it's scammers — not the VA — who charge for services like filing pension or other claims or getting military records.
Job scams: Past military service appeals to many employers, and scammers use that to their advantage. On Internet job boards, fraudsters advertise phony positions, sometimes specifically trying to recruit veterans, in an effort to glean personal or financial information for identity theft. Although it's slowed in recent years, beware of another online ruse: classified ads offering cars or other items, placed by scammers who pose as soldiers facing deployment or as families of those killed in action. They seek upfront payment for a bargain that never materializes.
>> Get discounts on financial services with your AARP Member Advantages.
Romance scams: Looking for love on the Internet? On dating websites and in online chat rooms, scammers continue to pose as active-duty or retired military personnel to lure the lovelorn into responding to inevitable requests for money.
For information about other scams, sign up for the Fraud Watch Network . You'll receive free email alerts with tips and resources to help you spot and avoid identity theft and fraud, and gain access to a network of experts, law enforcement and people in your community who will keep you up to date on the latest scams in your area.
Photo: Seaman Robert Harclerode/Flickr
Also of Interest

See the AARP home page for deals, savings tips, trivia and more.