The Takeaway: AARP CEO Addresses Debt Committee; New Federal Office Focuses on Senior Scams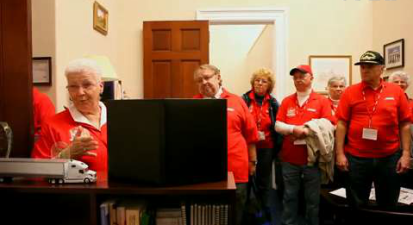 Dear Debt Committee ... : AARP CEO A. Barry Rand sent a letter yesterday to the Joint Select Committee on Deficit Reduction, i.e., the debt Super Committee. Rand asked the 12-member panel, which is tasked with cutting $1.5 trillion in debt from America's 10-year budget, not to include Social Security or Medicare benefit cuts in those plans.

Older Americans recognize the urgent need to address the nation's fiscal deficit and acknowledge the daunting task you face to help put our nation's finances on a more secure path. But older Americans, across party and regional lines, strongly oppose fast-track cuts to the health care and retirement benefits they have paid into and depend upon."

Rand's letter concluded by outlining proposals for health care cost savings that don't rely on Social Security or Medicare benefit cuts.
AARP members themselves 'blitzed' Capitol Hill last week, wearing bright red polo shirts and calling on Congressional budget-cutters to spare Social Security and Medicare. Last Thursday, more than 500 members joined a protest on the Hill, delivering letters and leaflets to congressional offices. Protestor Boni Braunbeck, 65, of Missoula, Mont., delivered what could be considered an extremely concise version of Rand's message:

Don't mess with us," she said. 

Stopping Senior Scams: The newly-created Office of Older Americans, within the U.S. Consumer Financial Protection Bureau, will focus on stopping the financial abuse of older adults. Regulators say financial fraud costs older Americans about $3 billion a year. Hubert H. 'Skip' Humphrey III, 69-an AARP board member and son of former vice president Hubert Humphrey Jr.-will direct the office.

I seem to be getting all of these invitations to free-lunch investment seminars," Humphrey said. "I have a sneaking suspicion they are not free."

The office will tackle scams and schemes from investment fraud to bogus reverse mortgage deals to high-pressure sales tactics (like many of the free lunch seminars) aimed at seniors. It also aims to "educate and engage older Americans about their financial choices in the area of long-term savings, retirement planning and long-term care."
Thursday Quick Hits:

See "In the News" for more on current events, entertainment and how it all relates to you.