The Takeaway: First Black Marines Remembered; Loretta Lynn Hospitalized; New Hope For Hearing Loss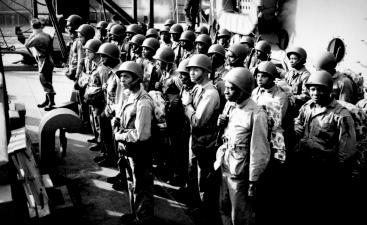 Belated Honors for Black Marines? Tomorrow, Congress will vote on whether to award the Congressional Gold Medal to America's first black Marines, known as the Montford Point Marines, the Washington Post reports. Montford Point was the base near Jacksonville, N.C., where black Marines were stationed, between 1942 and 1949, to keep them separate from white Marines at nearby Camp Lejeune. The Congressional Gold Medal is the highest civilian award in the U.S., given for outstanding deeds of service to the security, prosperity and/or national interest of the country.

Unlike the Army's Buffalo Soldiers or the Air Force's Tuskegee Airmen, the Montford Point Marines have remained low-profile in the annals of American history-never featured in popular songs or Hollywood movies, never recognized by Congress, their story little-known by most civilians and even most Marines. The Marine Corps was the last military branch to accept blacks, under orders from President Franklin D. Roosevelt in 1941. "The Corps did not want these guys," said University of North Carolina historian Melton McLaurin, author of The Marines of Montford Point.

"The commandant of the Corps at the time said if he had a choice between 250,000 African Americans - he used the term negroes - and 5,000 whites, he would rather have the whites."

The Corps resisted President Harry S. Truman's 1948 desegregation order, the Washington Post notes, and it wasn't until the Korean war that black Marines fought alongside whites.

Loretta Lynn Hospitalized: Country superstar Loretta Lynn, 76, has been hospitalized for pneumonia. Lynn postponed the concerts she was supposed to perform this past weekend because of the illness. The Paramount Arts Center in Ashland, KY-where Lynn was due to perform Saturday night-posted a notice on its website saying:

Doctors have diagnosed her at the beginning stages (of) pneumonia, and (she) will continue to need rest. Loretta is doing well and is disappointed, but feels confident she will be ready for upcoming November dates.
Recent months have not been kind to Lynn's physical health: In August, she had knee replacement surgery (forcing her to cancel tour dates); in July, she was hospitalized and treated for heat exhaustion and dehydration.
Hear We Go Loop de Loop
: More public spaces in the United States-stores, banks, museums, concert halls, subway stations-are installing '
hearing loop'
technology to help those with hearing aids receive sound more clearly,
the New York Times reports
. The results can apparently be astounding: After experiencing the technology at a performance of 'Wicked,' composer Richard Einhorn, who lost much of his hearing last year at 57, said:
There I was at 'Wicked' weeping uncontrollably - and I don't even like musicals. For the first time since I lost most of my hearing, live music was perfectly clear, perfectly clean and incredibly rich."
"I used to detest my hearing aids, but now that they serve this second purpose, I love the way they've enriched my life," said psychology professor David G. Myers.
Venues create hearing loop technology by installing a thin strand of copper wire on the floor, around a room's periphery. These wires radiate electromagnetic signals that can be picked up by a tiny receiver already built into most hearing aids and cochlear implants. When the receiver is on, the device only picks up sounds coming directly from a microphone, not all the background noise.
Monday Quick Hits
:
(Photo: Marines.com)