The Takeaway: Helen Mirren's Best Body; The Aging Well Edition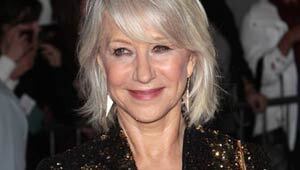 Helen Mirren takes the crown again. The sexiest woman over 50 has a new title: Best body. According to an L.A. Fitness poll, the 66-year-old was named female celebrity with the best body - beating Elle "The Body" MacPherson, Jennifer Lopez, Kate Winslet and Pippa Middleton. But we already knew this.
Ms. Mirren, in a word, is hot. (This is what 60-something looks like.) Her male counterpart: David Beckham. ... Speaking of aging well: How old is this guy? And how does he stay looking so young?
... Obama signs debt-limit bill into law. What's in it for you?
... More on health living and longevity: Bad habits now will shrink your brain later, says an interesting new study. The findings are not that groundbreaking - researchers report that people in their 50s who smoked, were overweight, rarely exercised and had other unhealthy habits, were more likely to experience cognitive decline 10 to 20 years later. But it's the participants who really make this study so fascinating: Researchers in the Framingham Heart Study have been following residents in Framingham, Mass., since 1948. The goal is to identify common factors (environment, genetics, health habits) that may lead to heart disease. The people in this current study, published in Neurology this week, are the children of the original subjects. ... How living in one Virginia town can shave about 10 years off a woman's life:

"Every one of the 13 chairs at the Hair Station is occupied this afternoon by women getting a wash and set or soaking their tired feet. Their chatter is louder than the bubble-top dryers. Miss Janie has decided to eat a slice of mixed berry pie with ice cream and call it lunch; the bridesmaids at Mary Baird's daughter's wedding will be wearing short yellow dresses and cowboy boots. You wouldn't know it from the cheerful talk, but this little Southern town has lately acquired a sad distinction: Women here are likely to die nearly a decade sooner than their counterparts less than 200 miles away."

Popular antidepressants not always the best choice for seniors: " New research suggests that hugely popular antidepressants such as Prozac and Effexor might not always be the best choice for seniors, since they seem to have more side effects than older antidepressants do." Also: Nine medications you should use with caution. One more: Are your meds hazardous to your health?
Quick Takes: Dog lovers with allergies, heads up: Hypoallergenic pets may be a myth. .. Ground turkey l inked to Salmonella outbreak. ... Boomers watch more TV than teens.
See "In the News" for more on current events, entertainment and how it all relates to you.
(Photo: Orchon/Retna Digital/Corbis)