The Takeaway: Older Women More Sexually Satisfied Than Middle-Aged; Romney Takes Iowa
Iowa Caucuses Launch Election Season 2012: In the uncertain-'til-the-end Iowa caucuses, former Massachusetts Gov. Mitt Romney ended with an eight-vote victory over former Sen. Rick Santorum. Voters over 50 dominated, accounting for six out of every 10 votes-mostly in favor of Romney and Santorum, in contrast to younger voters, who favored Rep. Ron Paul. AARP blogger Sandy Johnson has more ...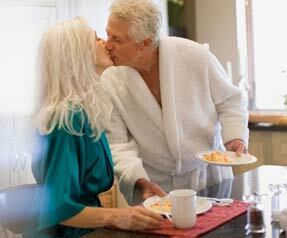 Arousal Precedes Desire In Older Women: In their younger days, boomers oft-accused the older generations of having a bad attitude toward sex. Try telling that now to the 80-year-old women who are more sexually satisfied than their 55-year-old counterparts. That's right: A new study of more than 800 women between the ages of 40 and 100 found those over 80-and those under 55-most likely to report sexual satisfaction.
The study, published in the American Journal of Medicine, also found that sexual satisfaction wasn't totally related to frequency of sex or level of sexual desire. Older women in particular were likely to report little in the way of sexual desire, but still say they always or almost always experienced orgasm during sex and were generally satisfied with sexual activity.

In contrast with the traditional linear model, in which desire precedes sex, these results support a nonlinear model of sexuality in older women, because sexual desire did not precede sexual arousal," the authors wrote. Women, they suggested, "engage in sexual activity for multiple reasons, which may include nurture, affirmation, or sustenance of a relationship."

With sexual satisfaction lowest among the 55-79 year old cohort, I wonder how much menopause-which can seriously change a woman's experience of sex-enters into the picture. Perhaps the higher levels of sexual satisfaction among older women reflects that they've accepted and found ways to deal with changing bodies and levels of desire-which is good news, right? At least its a blow to those who'd say sex lives all go downhill after 50. Of course, the way the study authors describe it could be good or bad, depending on your interpretation: "Low sexual desire increases with age," they note, "But distress about low sexual desire decreases with age."
Wednesday Quick Hits:

Photo: Cultura/Getty Images