The Takeaway: Regis Philbin Packing Up; Menopause-Related Memory Loss Could Actually Be Early Dementia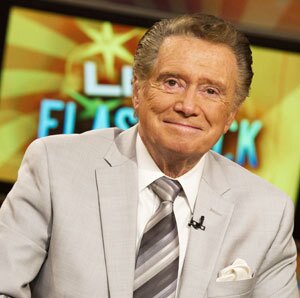 Philbin's Farewell (But Not Retirement): Talk show host Regis Philbin will make his final appearance this Friday morning on "Live With Regis and Kelly," ending what the New York Times called "the most enduring act in morning television - and probably the longest-running act in television of any kind." According to Guinness World Records, Philbin, who turned 80 this year, has put in more on-air hours than anyone else in the history of television- about 17,000 hours. He's hosted "The Morning Show" since 1982, first with a woman named Ann Abernathy, then for 15 years with Kathie Lee Gifford.

"I think he is the world's greatest storyteller," his current co-host (for the past 11 years), Kelly Ripa, said. "That's his gift."

Regis fans can still get some of his storytelling after his final morning show appearance this Friday: A new book by Philbin, called How I Got This Way, collects some of his best stories, and went on sale today. Philbin also stressed that the end of his morning show tenure doesn't mean the end of his career-expect to see more of him on TV in some form. He's declined invitations for "Dancing With the Stars," he said, but "Saturday Night Live" would be "irresistible."
Menopause and Memory: Women who complain of memory lapses or mental slippage around the time of menopause actually perform no more poorly on cognitive tests than similar-aged women who don't report such complaints. But that's because their brains may be working extra hard to stay keen, a new study shows. Brain scans of women the scientists termed 'cognitive complainers' showed far more exertion in parts that govern short-term memory than in unaffected peers.

Odds are, said Julie Dumas, the University of Vermont neuroscientist presenting the study, that some of these cognitive complainers might go on to develop more serious intellectual deficits -- either mild cognitive impairment or dementia, including Alzheimer's disease. In studies of older populations of cognitive complainers -- average age, 67-- 50% of people who reported a subjective experience of intellectual slippage went on to develop dementia versus 15% of those who didn't have such complaints.

It's possible that the fogginess these post-menopausal women report actually has nothing to do with menopause, Dumas said, and instead indicates very early stages of dementia.
Tuesday Quick Hits: