The Takeaway: Sex After 65 Linked to Happiness; Gingrich's Social Security and Medicare Plans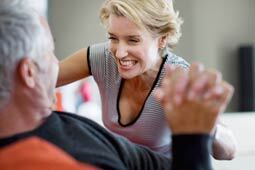 Sexual Seniors Happiest: Older married couples who still engage in sexual activity are more likely to report happiness in their relationship and with their lives overall than those who have sex infrequently, according to research presented at the Gerontological Society of America's annual meeting in Boston yesterday. This may seem at first blush like news that's likely to surprise very few- you mean to tell me sex makes people happy?-but there are some who believe sex stops mattering to older adults (despite all the  evidence to the contrary). This research confirms the importance of sexuality to those over 65, said lead researcher Adrienne Jackson, who hopes the study "will help open the lines of communication and spark interest in developing outside-the-box approaches to dealing with resolvable issues that limit or prevent older adults from participating in sexual activity."
See Also: 10 Ways You Can Improve Your Sex Life >> 
Jackson's research, based on the 2004 General Social Survey of American adults, found the number of "very happy" married individuals 65 and older was 60 percent among those who had sex more than once a month. Only 40 percent who had not had sex in the last 12 months considered themselves "very happy." The results held even after adjusting for happiness-influencing factors such as age, gender, health and finances, researchers note.
In terms of marital happiness, 80 percent of those who had sex frequently said they had it, compared to 59 percent of those who hadn't had sex within the year prior to the survey. The study, however, is correlational-meaning it's not clear whether sex makes older couples happier, or whether happier older couples are more likely to have sex.
Gingrich On Social Security, Medicare: Republican presidential candidate and former House speaker Newt Gingrich wants to save Social Security-by allowing younger workers to drop out of it. Gingrich's 'growth and innovation' plan, which would let younger members of the U.S. workforce choose private retirement accounts, is similar to the privatization plan President George W. Bush touted in 2004.

Growth and innovation means securing and strengthening Social Security by empowering Americans with the option to invest in personal savings accounts," Gingrich said in remarks prepared for the plan's Monday afternoon announcement. "This gives Americans ownership over their retirement and the opportunity to unleash the power of the market to enjoy prosperous retirements beyond their most optimistic expectations, while also wiping out all future liabilities in the Social Security system."

Gingrich also plans to call for state and private alternatives to Medicare. In Gingrich's plan, seniors could stick with traditional Medicare for now, or opt into an alternative insurance program ("Unleashing competition will dramatically increase options for American seniors, while also lowering costs," he said). Only time-and more details-will tell if Gingrich's ideas could really spur 'growth and innovation,' or are simply another rehash of the same old entitlement program privatization dreams. What do you think?
Monday Quick Hits:

Photo: OJO Images/Getty Images