The Takeaway: Sleep Apnea-Dementia Linked; Gambling Addiction; How's Your Sex Life?
Is mom getting a good night's rest? A new study published in today's Journal of the American Medical Association links dementia in older women to sleep apnea, a condition that causes people to stop breathing - for a short period - as they sleep. Researchers focused on women, average age 82, with various sleeping disorders, including apnea. They found those women "were much more likely than those with normal sleep habits to develop cognition problems within five years."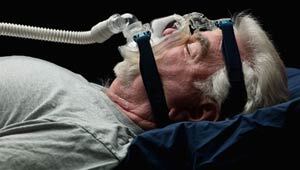 How do you know if you have sleep apnea? Seven signs to watch for. ...
Wednesday Quick Takes:
Know when to fold: For many of us, losing a large amount of money in a gambling bout is hard to swallow. But for retirees, it can be downright devastating. From the San Diego Union-Tribune: " Older adults may be particularly vulnerable to some gambling-related problems. Approximately one in 20 adults who participate in gaming have a problem or tendencies toward pathological gambling. Many older adult gamblers with fixed incomes are more vulnerable to financial devastation than younger gamblers." How do you know when it's just plain fun or an addiction? Related: For one woman, gambling and other addictions strike too close to home. 
... From USA Today: Older Americans of color are being financially squeezed as their earnings and savings drop and costs continue to rise, according to a report released Thursday. ... From HuffPost: A study published in The British Medical Journal this month raises questions about the risks of antidepressant medications for adults 65 and older who have been diagnosed with depression. Also: Nine types of medication older adults should use with caution.
... Now this is a very interesting study. From Chicago Sun-Times:

"Are you an older man unable to have sex with your wife? You may be impacted by her relationship with your close friend, a study coauthored by a University of Chicago sex researcher suggests. For men between 57 and 64 years old, the rate of erectile dysfunction when their wives were closer to a friend than the men were was comparable to those with prostate issues, according to the study published Monday in the American Journal of Sociology.

See "In the News" for more on current events, entertainment and how it all relates to you
(Photo: Vetta/Getty Images)