The Takeaway: Weekend Edition
Watch your step: The bathroom is quickly becoming one of the most dangerous rooms in your house. A recent CDC report looked at bathroom-related injuries in 1998. Every day that year about 640 people were treated in emergency departments for fractures and cuts related to falls.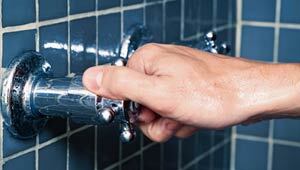 Highlights: Women were hurt more than men; the highest number of injuries were among adults older than age 65.
The report is significant because it's the first to not only measure the number of bathroom-related injuries, but actually break down how people were hurt - did they slip, faint, break a leg - and what they were doing at the time - going in/out of the shower, near the toilet, etc. ... FDA links prostate drugs to cancer: The agency expanded the warning label on a group of prostate drugs Thursday, including GlaxoSmithKline PLC's Avodart and Merck & Co.'s Proscar. The issue isn't the drugs' effectiveness. They do what they're supposed to do: reduce the risk of prostate cancer. The problem: They may cause other more serious cancers.
... The lone wolf: Whether Anthony Weiner keeps his job in Congress or leaves is not our issue. What we find interesting is the reaction from his colleagues. Or rather, nonreaction. That radio silence is tantamount to nonsupport. And as many older workers struggling to survive in this marketplace are discovering, there's something to be said about being a team player. Building partnerships, communication and being open to learning - even from the intern - are vital. Especially in this economy.
... And smokers everywhere are muttering "We could have told you that:" Adding a few pounds after giving up cigarettes is common among former smokers. But a new report makes it official: Nicotine acts as an appetite suppressant. Weight-concious smokers who are trying to quit, don't throw in the towel, yet. The research may lead to better cessation treatments, experts say. In the meantime, get that gum ready. ... E. coli update: The death toll rises to 29 as Dutch officials report finding the bacteria on red beet sprouts.
... After this, there really is no excuse to miss your class reunion. If she can make it, so can you: Rosemary Hunt Todd, 102, represented her class at Cornell University's 80th reunion Thursday night. Thirty graduates from the Class of '31 are still alive.
What you may have missed this week:
... HIV/AIDS and Latinas at greater risk: Thirty years after the first diagnosis of HIV/AIDS gripped the world with fear, the virus is affecting Hispanic women at an alarming rate. Latinas are almost four times more likely than non-Hispanic white women to be infected. ... Health care law hearing: During the highly anticipated event, the three-judge panel of the 11th U.S. Circuit Court of Appeals heard arguments on the law's constitutionality Wednesday - while raising questions of their own. A primer: What's at issue.

... Sexting - it's not just for kids anymore: Many people over 50 are doing it. ... Adult vaccines can prevent future health costs: Are your vaccinations up-to-date? If you're not sure, chances are your doctor isn't either. But it pays to know. Key vaccines for you: Shingles; Pneumococcal disease; and tetanus. (Most people who die of tetanus infections are over 50.) Read more for other important recommendations.
See "In the News" for more on current events, entertainment and how it all relates to you.
(Photo: Ocean/Corbis)