The Takeaway: Weekend Edition
More on how olive oil can lower your risk of having a stroke. ...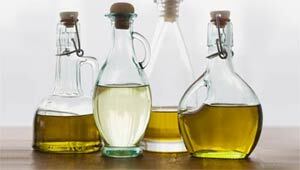 Rita Wilson tapped as editor of Huff/Post 40. The actress is heading a new site the Huffington Post is launching in August geared toward Boomers over 40. And what Friday would be right without a good debate? Mary Elizabeth Williams over at Salon gives her take about the "absurdity" of lumping several generations together with the phrase "over 40."
... Most people lack a plan to care for their parents. "A majority of Baby Boomers say they are likely to become caregivers for their parents, but only half can name any medications their parents take, a new survey shows." ... Anthony Weiner resigned Thursday. Why is this news in this space? People over 50 are sexting more often than you think. While it may not be in the same manner as the former New York Congressman - many are doing it to keep things spicy with their spouses and partners - it is happening.
What you may have missed this week
Caregiving toll is steep for 'Sandwich' generation. Taking care of your aging parents could cost you $300,000. That's the figure coming out of a new MetLife study on what it costs for the 10 million adults over 50 who are caring for their aging parents. More on the Sandwich Generation and caregiving.
Want to know how long you'll live? Check a map:

"Life expectancy in most U.S. counties lags behind that of the world's healthiest nations, in some cases by 50 years or more, according to a new analysis of government data."

Older people face public transportation crisis. For members of a generation who built a staunch reputation for active living and independence, the day one has to stop driving is hard. Many continue to drive into their 80s, but whether it's declining health or poor eyesight, the inevitable moment always comes. Which makes public transportation so vital and is why communities need to do better, a new study shows. Also: Guides to getting around without getting behind the wheel of a car. ... FDA issues new sunscreen rules. Candy Sagon tells you how to enjoy the sun without getting burned.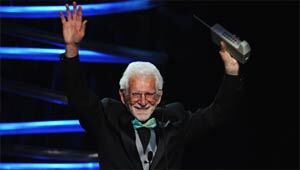 In a room where most people were less than half his age, Martin Cooper was clearly THE MAN. Cooper, 82, is widely known as the inventor of the cellphone while an engineer at Motorola in the 1970s. As he accepted his lifetime achievement honor at Monday night's Webby Awards, the crowd erupted and some held up their phones in homage. Introduced as the man who changed the game and changed our lives, Cooper held up his original 2 pound 1973 Dyntech prototype and calmly asked: "Can you hear me, now?" (AARP was also a winner: People's Voice Award - Association Website.)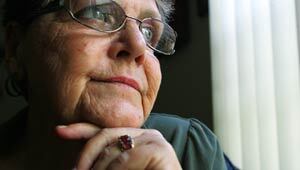 Seniors face Medicare cost barrier for cancer. If rising health care costs weren't enough, Medicare patients like Rita Moore, who are fighting cancer, face a new hurdle: high copays for the newest treatments. "A recent study finds that about 1 in 6 people with Medicare aren't filling their prescriptions."
See "In the News" for more on current events, entertainment and how it all relates to you.
(Olive oil bottles: Tetra Images/Aurora; Martin Cooper: Jamie McCarthy/Getty Images; Rita Moore: Gary Kzanjian/AP)