The Takeaway: Weekend Edition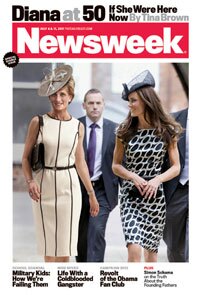 Wait, is that ... Princess Diana would have turned 50 today. To commemorate her birthday, the latest cover of Newsweek features a smartly-dressed Diana walking with her equally sharp daughter-in-law Kate Middleton. The Photoshopped image (Diana has even been digitally aged in the photo) has caused quite a stir among fans and journalists alike. The story, " Diana at 50: If She Were Here Now," explores what the late princess would be like today. Apparently, she'd have an iPhone, take style notes from Michelle Obama, live in New York and be a social-media maven (check out her Facebook page). What do you think? Clever or creepy?
Avastin update: Medicare will continue paying for Avastin's use as a treatment for breast cancer, a spokesman said Thursday. This comes after an FDA panel voted Wednesday to revoke the drug's approval for such treatment.

What you may have missed this week:
When is it time to take away the cars keys? The debate over seniors' right to remain behind the wheel was revived this weekend after a 90-year-old woman drove through a nursing home's recreation room on Saturday. Many older people resist giving up the car keys because it significantly reduces their sense of independence. But that desire to hold on to the keys has proven itself deadly more than once.
... Lots of breast cancer news to sort through this week: From the L.A. Times: A 30-year trial by Swedish researchers has found regular mammograms can reduce breast cancer deaths by at least 30 percent, "a finding that many doctors say may help ease the recent controversy surrounding the procedure." A little background: Last month the U.S. Preventive Services Task Force caused a stir after recommending that women should wait until they are 50 to begin annual mammograms - up from the long-standing guideline of 40 years old. The argument: The screenings are unnecessary, provide too many false diagnoses and save relatively few lives in the long run. Navigating diagnosis, treatments, survival. ... One more: After breast removal surgery, doctors usually recommend radiation to kill any remaining cancer cells - especially among older, high risk patients. Studies have proven that the post-mastectomy treatment does increase survival rates. So why aren't older breast cancer patients getting radiation?
... The U.S. Court of Appeals for the 6th Circuit in Cincinnati voted Wednesday to uphold the individual mandate provision of President Obama's health care law. What that means: Congress can require Americans to carry insurance coverage. The ruling is no doubt a boost to the law's proponents, but it's just one in 30 lawsuits that have been filed challenging the constitutionality of the new law. ... New proven screening for lung cancer: "Yearly CT scans of middle-aged and older smokers - and former smokers - can reduce the risk of death from lung cancer by 20 percent, according to a eight-year, landmark study funded by the federal government." ... Could the debt-ceiling limit affect Social Security checks? Maybe. If the issue isn't resolved by the August 2 deadline, the government may not be able to meet 44 percent of its obligations, according to the Bipartisan Policy Center.
Changing face of the suburbs. Latest analysis pulled from 2010 Census: It's not news to us, but new research shows the nation's suburbs are shifting away from the young couples with children image. ... Are you seeing things? Charles Bonnet Syndrome: It's a condition that causes seniors with vision problems - due to macular degeneration, strokes, glaucoma or diabetes - to see people or shapes that aren't there. And the number of cases is growing. Between 20 and 40 percent of Americans with poor vision develop hallucinations associated with the syndrome, says the American Foundation for the Blind.
... TSA stands by officers after pat-down of 95-year-old woman in Florida. The cancer patient was forced to remove her adult diaper during a screening a couple of weeks ago at the Northwest Florida Regional Airport, according to her daughter.
(Photo: Newsweek/AP)